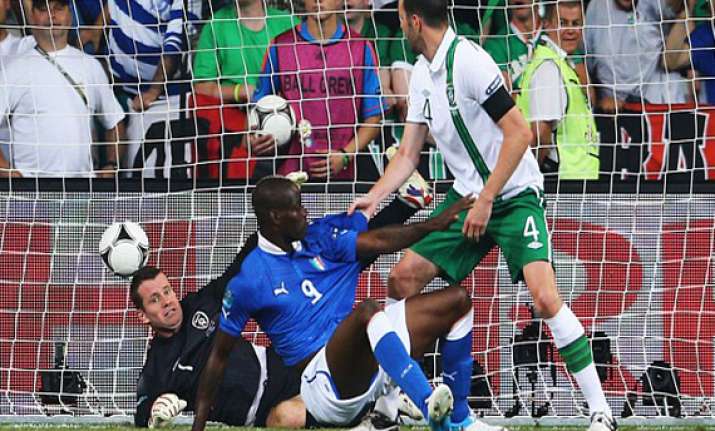 Poznan, Poland, June 19 :  Mario Balotelli finally broke his scoring drought at the European Championship. And he apparently has teammate Leonardo Bonucci to thank for preventing his breakthrough moment from turning sour.
Balotelli came off the bench and scored a spectacular second goal for Italy in the 90th minute of a 2-0 win over Ireland on Monday that put the Azzurri into the quarterfinals.
Immediately after he scored, Bonucci rushed over and put his hand over Balotelli's mouth. The 21-year-old striker has picked up four red cards in two seasons with Manchester City, and Bonucci didn't want to risk him being punished with Italy, too.
"Whatever he said, he said it in English and I didn't understand it," Bonucci said. "I put my hand in front of him because Mario is instinctive, and that's also his strength. We spoke with him and he knew how he should have behaved."
Balotelli started Italy's opening two matches, but appeared hesitant in front of the goal—inexplicably wasting a wonderful chance against Spain by slowing down just enough for Sergio Ramos to catch up and strip him of the ball, and then again failing to find the target against Croatia.
He injured his right knee in training Saturday, but it appeared coach Cesare Prandelli's choice to replace him with Antonio Di Natale in the starting lineup had nothing to do with that.
Di Natale replaced Balotelli in the opening two matches and scored against Spain.
But this time, the 34-year-old Di Natale was the one who struggled, and Balotelli replaced him in the 74th.
Balotelli's goal was a work of art, acrobatically wrapping his shot around defender John O'Shea in mid-air, as he met a corner kick from Alessandro Diamanti.
It was Balotelli's second goal in 11 appearances for Italy, with his first goal coming during a friendly against Poland in November, which made him the first black player to score for the Azzurri.
Balotelli is having to mature amid a spate of fan racism, with UEFA investigating a banana thrown at him by Croatia fans, and Prandelli has handled him very delicately.
"His minutes tonight are important for him and for us," Prandelli said. "Everyone needs to understand that whoever is on this squad deserves to wear this jersey with heart and courage. He needs to play and to contribute and that's what he did when he came on."
At the final whistle, as his teammates ran over to the bench to get the result of the Spain-Croatia match, Balotelli walked over to hug Ireland goalkeeper Shay Given, his former Manchester City teammate, and trade shirts.