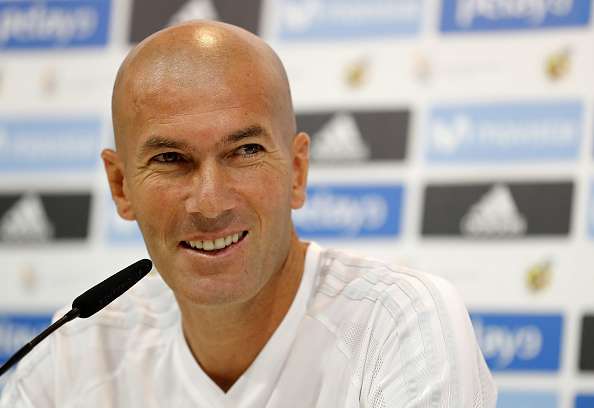 The Los Blancos chief coach Zinedine Zidane confirmed on Saturday that he has reached an agreement with the record European football champions to extend his current contract for a further three years.
Zidane was asked about the deal in his lunchtime press conference ahead of Sunday's first leg of the Spanish Supercup away to FC Barcelona in the Camp Nou Stadium, as media reports suggest. 
In a season and a half in charge, Zidane has led Real Madrid to the Champions League on two occasions, as well as last season's La Liga and this season's European Supercup after beating Manchester United 2-1 on Tuesday. But in his reply, he insisted the length of the deal was not as important as maintaining results.
"I am happy, but it doesn't mean anything. I could have signed for 10 or 20 years, but I know where I am. Here you live day by day and it could well be that I am not here in a year," said Zidane.
However, although he showed a refreshing display of the realism which has characterised his time as first team coach, Zidane said he was "happy for the confidence shown in me and for having worked well."
"Our objectives will be the same, we know what club this is and the great thing is that we enjoy this job. There will always be ups and downs, but we are in such a good moment that we are enjoying it a lot," he concluded.
With Neymar leaving, the right wing is still left vacant for a player to fill the void that the Brazilan super star has made. Phillipe Coutinho and Ousmane Dembélé are the players that FC Barcelona have contacted though each side is reluctant to let their star wingers leave their respective clubs. Christian Eriksen from Tottenham Hotspurs is the back up that the Catalans have in mind if the Brazilian winger doesn't leave Anfield. 
The El Classico for the Super Cup will happen on August 14 at 12:15 PM IST. 
(With IANS Inputs).