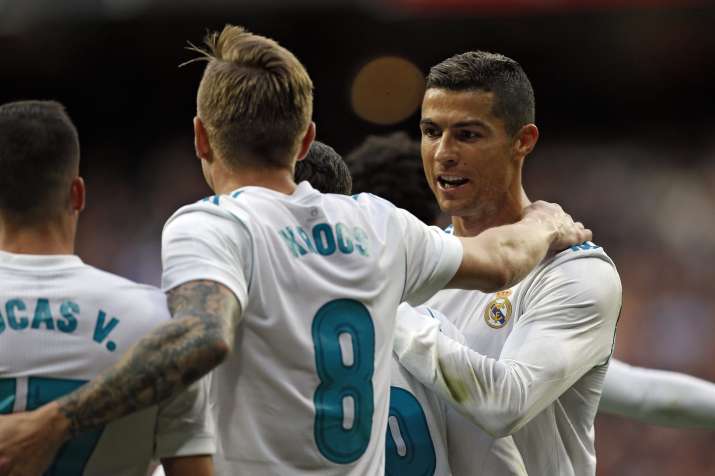 The UEFA Champions League round of 16 draw has been announced and it cannot get anymore flabbergasting than this. Double defending champions Real Madrid take on the team aspiring to become champions, PSG. FC Barcelona face their old arch-rivals, Chelsea as history needs to revive memories again.
With Atletico out of the UCL, Spanish clubs in the round of 16 consists of Madrid, Barcelona and Sevilla. The Premier League sides will have to give their all especially Tottenham Hotspurs who take on Italian champs Juventus. Manchester United take on Sevilla whereas City face FC Basel. The Citizens lost their first match of the season to Shakhtar Donetsk who will take on AFC Roma. Liverpool will feature FC Porto.
Take a look at the UEFA Champions League Round of 16 draw.
Top matches to look out for.
Real Madrid vs PSG
The defending champions Real Madrid now have a game on their hands. They have beaten and defeated the best but a current PSG side are rampant as the Los Blancos are. The BBC (Benzema, Bale and Ronaldo) trio will take on the attacking side of Edison Cavani, Kyllian Mbappe and Neymar. Madrid have one of the best-attacking football players in Europe, but as they face Paris Saint Germain, the young and upcoming superstars such as 18-year-old Mbappe and 25-year-old Neymar, attacking football will be seen from one end to the other. Cavani is a machine in front of goals as he has scored 51 goals in 2017. 
FC Barcelona vs Chelsea
The two teams know each other very well, but it has been a while since they have encountered each other in the Champions League. The two teams have met seven times, the two unforgettable moments would be when Chelsea knocked Barcelona out from the UCL in 2012 semi-finals. Two former Catalan players Cesc Fabregas and Pedro would face their old club in the round of 16. Antonio Conte's Blues will face Ernesto Valverde's Barcelona.
Juventus vs Tottenham Hotspurs
The Italian champions have come close but were defeated by the defending champions Real Madrid in the finals in the 2016-2017 season. This maybe veteran goalkeeper Gianluigi Buffon's last attempt at winning the champions league after he retired from International football after Italy couldn't qualify for the 2018 World Cup in Russia. For the Turin side, it not be as easy as it seems as the North London club defeated the defending champions in their previous encounter in the group matches 3-1 at Wembley. Spurs may not be the favourites to win but will surely put up one hell of a fight.