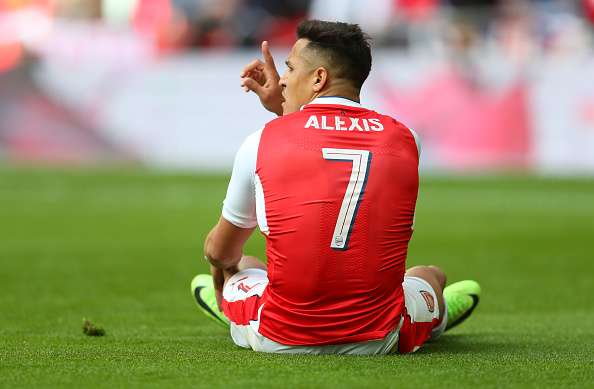 As time continues to tick on, the former Barcelona winger and current Arsenal forward Alexis Sanchez has created all sorts of troubles with his contract with the Gunners. The Chilean all-time goal scorer has wished that he would like to leave the club but that's what close personals have stated. The Gunners manager Arsene Wenger and the players have a different story to narrate as they are confident about the forward playing in the 2017-2018 season. Sanchez has a 1-year deal left to play at the Emirates Stadium in North London. 
With Bayern Munich and Manchester City keeping a close eye on the Chilean, Alexis has been a huge influence on the Gunner's game as he belted 24 goals for Arsenal last season in the Premier League. Reports have suggested that the forward might be linked to Manchester City as he wishes to reunite with his former coach Pep Guardiola. 
With Arsenal winning the FA Cup last season by defeating the champions Chelsea 2-1, Sanchez was the man that opened the goal for the Gunners in the opening minutes of the match. Arsenal have not won the Premier League title for 13 years and have never managed to win the Champions League, the Chilean forward wants a way out to do so. This year Arsenal have not qualified for the Champions League and will play the Europa League which was highly unexpected from the Gunners as they have qualified for the Champions League round for the past 16 years consecutively. 
The Chilean has demanded for a wage of 400,000 Pounds a week which is highly unlikely for Arsenal to pay. The Gunners have offered a contract with a 300,000 Pounds per week but the forward has yet not confirmed any kind of deal at the Emirates. 
Mesut Ozil and Alex Oxalade Chambers are also the top players for Arsenal who are most likely to leave the club as the former Real Madrid midfielder has yet to sign a contract with the Gunners with 1-year deal left for him as well. 
With Arsenal breaking their record fee with 46 million pounds for the French and Lyon striker Alexandre Lacazette, the Gunners seem to go on a spending spree this season and have also targeted the likes of Thomas Lemar and Kylian Mbappe from Monaco who have slapped a heavy price tag on the winger and the striker. 
Speculations still arise as to what decision the Chilean will make. Ozil has expressed his views that he wants to play with Lacazette who is a goal scoring machine. The French forward capped in 25 goals for his former club Lyon. There is still an uncertainty on Arsenal's forward Sanchez.
Arsenal are currently in Australia for their pre-season tour.