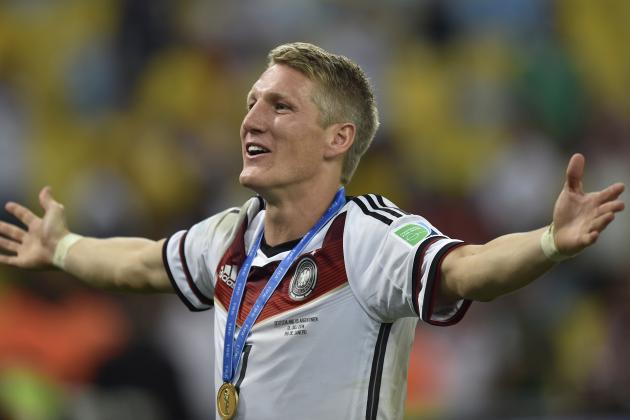 Bastian Schweinsteiger, star midfielder and captain of the national football team of Germany, announced on Friday that he is retiring from international football after making a record 120 appearances over 12 years.
"I have just asked the coach not to nominate me anymore for the national team because I would like to step back," 31-year-old Schweinsteiger said on Twitter.
He, however, continues to represent Manchester United, though there is uncertainty among some quarters over his future in the team following the arrival of Jose Mourinho as the team's coach. 
"We achieved something historic and emotional in winning the World Cup title in 2014, something that can't be repeated in my career. That's why it's right and reasonable to call it a day and to wish the team all the best for qualification for the 2018 World Cup."
Schweinsteiger expressed his disappointment at the team's failure to win this year's European Championship - Germany lost to France in the semifinal - but he remembered "moments that were unbelievably special and successful."
The combative midfielder produced an inspired performance to help Germany beat Argentina in the 2014 World Cup final in Brazil.
Here are some interesting facts about Germany's star midfielder. 
Born on August 1, 1984, Bastian made his international debut at the age of 20 in 2004 against Hungary in Kaiserslautern. 
The German midfielder endured a disappointing debut in a major tournament, as the team was faced early elimination in Euro 2004. 
In the 2006 World Cup play-off, he scored two scored leading Germany to a 3-1 win over Portugal. 
Bastian suffered huge disappointment when Germany was eliminated by Italy in the last four of Euro 2012. 
In 2014, he ended his long wait to lift a major international trophy when Germany defeated Argentina 1-0 in the 2014 Fifa World Cup. 
Schweinsteiger took over as Germany captain after his Bayern teammate Phillip Lahm announced retirement from international football.
Bastian joined Premier League side Manchester United in 2015, after spending 13 successful years with German champions Bayern Munich, where he made 500 appearances that included eight Bundesliga titles and the 2013 Champions League trophy. 
Despite sustaining a knee injury with Manchester United, he was selected by Germany manager Joachim Loew for the 2016 European Championship. 
The 32-year-old footballer has played 38 major tournaments, including 18 World Cups. 
Bastian made 120 appearances for Germany, with a record 81 wins and 20 defeats. He scored 24 goals for his team.