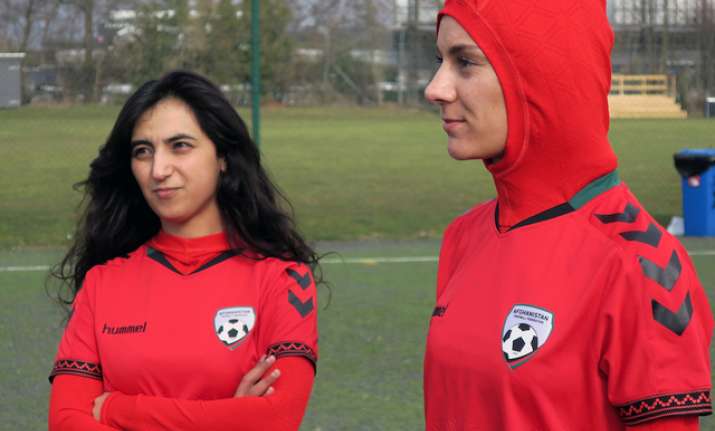 Denmark: Might sound a little off the hook, but Afghan women are no longer lagging behind the others when it comes to the popular sport of football. The participation of Afghanistan's women in a physical sport like football is special due to the conservative mindset that the country h
The foray of Afghanistan's women into this game is both inspirational and unique. For the Afghan women team will be the first to wear a jersey which will have a hijab to cover the players' faces. Hijab plays a crucial role for Muslims in their religion and it is meant to cover the face for the modesty of women.
"This jersey is the Afghani team uniform and I am proud to be a role model for thousands of young girls and women back home in Afghanistan," said Khalida Popal, the team's former captain. "It is very special to me. It is our identity."
The outfit was designed by Danish sportswear brand which also makes the uniform for national teams Denmark and Lithuania.
"Voila," said the 20-year-old Mabarz, a member of Afghanistan's national women's soccer team.
Mabarz and her teammates will be the first to wear a hijab that is connected to the base layer under their national team shirt. The creation, which also includes leggings, will make it easier for women to combine their soccer with their faith.
Using it is optional.
Playing soccer in Afghanistan can be dangerous for women, so many members of the national team live in Europe.
"Football was not easy for us to play, especially in a male-dominated country," Popal told The Associated Press. "It was not acceptable for women to play. Football is a man's game."
When women are allowed to play in Afghanistan, they are usually required to wear a headscarf. But that often proves tricky with the cloth sometimes falling over the players' eyes.
"So we thought of this solution, the sports hijab that is part of the whole package we made for the Afghan Football Federation," Hummel owner Christian Stadil said. "We wanted to make one that is cool and fashionable."
Stadil, who previously sponsored the exiled Tibet team, said the brand was in talks with other Middle Eastern countries to provide a similar outfit. He declined to name them.
"Our core value," Stadil told the AP, "is to change the world through sports."
(With inputs from AP)
Watch video here: