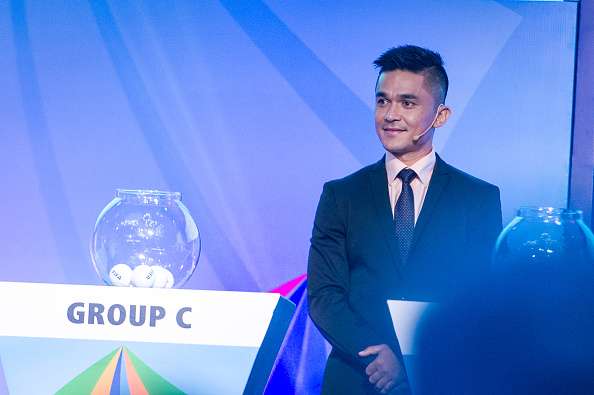 Indian Football striker Sunil Chettri praised the spirit and attitude of the Indian U-17 colts. The senior national team skipper on Friday expressed his confidence that the young lads will give their best in the Under-17 FIFA World Cup which is being held in India for the very first time. India have been clubbed with Colombia, the United States and Ghana in Group A of the 24-team tournament starting on October 6.
Speaking after the draw, Chhetri said: "It's the best tournament in the world in this age group. I am really excited. The boys are well prepared. I was talking to one of them and I asked which teams do you want? And he told me that it doesn't matter. We are just gonna go there and give our best and I was really impressed. There are two things. As a team, we will give whatever we have, and as hosts, we will try to be the best the world has ever seen," said India's all-time leading goalscorer.
Chhetri was one of the four sportspersons doing the draw besides Argentina midfielder Esteban Cambiasso, Nigerian forward Nwankwo Kanu, and the country's top-ranked badminton player P.V. Sindhu, who stated that the experience for the boys would be one to remember and results would not matter."India being the hosts, I would like to wish them all the very best, and I think it's just that you need to believe in yourself and give your best, no matter what," she said.
"Of course there are good teams out there, but I think if we do well it's ok, but if we don't, if we lose, never mind it's just the experience. You will have to learn a lot more", said Sindhu."This is just the beginning for them and there is a long way to go. So I think being the hosts, there will always be pressure. I would like to wish India all the best and other teams as well," she added.
India, coached by Portuguese Luis Norton de Matos, will play their first game against the US in the Jawaharlal Nehru Stadium on October 6, New Delhi.  
( With IANS Inputs)