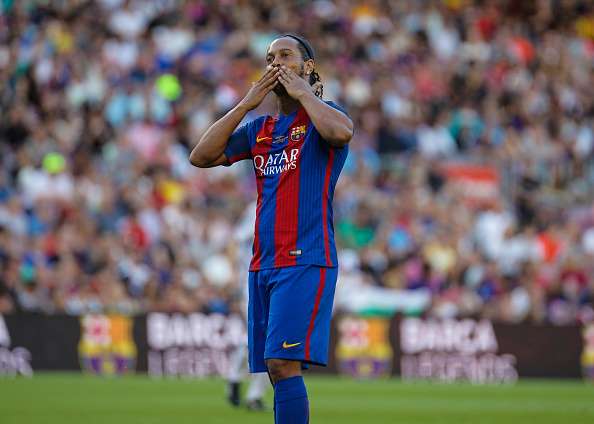 Brazilian football and former FC Barcelona skipper  Ronaldinho will be visiting Mumbai on Friday to explore his future with Premier Futsal, Indoor football that required skills such as dribbling, pace and a whole lot of nutmegs.The former FIFA Ballon d'Or winner's visit to India will surely set the heartbeats racing of millions of football and Futsal fans in the country.
The maverick's phenomenal 5-goal-haul against Paul Scholes' Bangalore 5's last year is still fresh in the memory of Futsal fanatics in India and his return to the country for an announcement in association with the tournament will surely raise the expectations of fans.
On his upcoming visit to India, Ronaldinho said, "My association with Premier Futsal has been a fruitful one. It was a great experience to be in India and play in front of local crowds last year and I look forward to another warm welcome from this sports-loving country."
The likes of Luis Figo, Paul Scholes, Ryan Giggs, Hernan Crespo and Cafu were also part of the indoor football tournament that saw its inaugural last year.
Premier Futsal is the world's largest futsal promotions company bringing football legends, futsal superstars and home-grown talent on a unique platform in a never-seen-before made-for-TV product.
The tournament was broadcasted in United Kingdom, Middle East, Europe, South America and South East Asia regions other than India.
With ANI Inputs