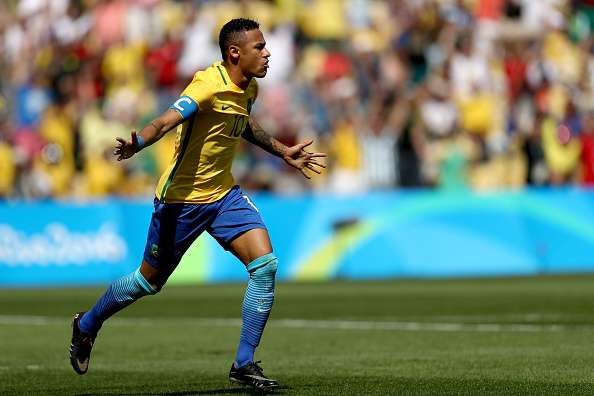 Neymar delivered Brazil's first Olympic man's football gold medal in a 5-4 shootout victory over Germany in a thrilling final at the Maracana stadium on Saturday.
He scored the clinching goal for Brazil with a nifty penalty kick in a victory that touched off celebrations all across the soccer-obsessed nation.
The win boosted the spirits of a country that has been dealing with a recession, political turmoil, health scares and rampant crime — not to mention the lingering effects of a 7-1 rout against Germany in the 2014 World Cup.
"Beloved nation, the gold is ours," Brazilian goalie Weverton said.
The soccer championship headlined a golden day in the Rio Olympics, featuring a full slate of track and field, the future of boxing on display in a medal bout and a Hall of Fame golfer pulling off an impressive comeback. The U.S. women's basketball team handily beat Spain 101-72 for a sixth straight title ; the American women have not lost an Olympic contest since 1992.
Brazil's run to gold in soccer was far from easy, struggling in the first round under the intense pressure of a nation that desperately wanted an Olympic gold. In the final, Neymar not only clinched the win in penalty kicks but scored the team's lone goal in regulation. Brazil won 1-1 (5-4 shootout).
Neymar did it before an electric crowd that featured nine-time gold medalist Usain Bolt. When Neymar scored his first goal, he emulated Bolt's "To the World" pose.
The Germany-Brazil soccer featured nearly entirely different rosters from the 2014 World Cup that marked a low point for Brazilian sports. Olympic soccer features under-23 teams while the World Cup is for the top national squad. But the match still had huge significance for Brazil, which had never won gold.
Unlike Neymar's squad, the U.S. women's basketball team breezed through the tournament — make that six straight tournaments. It was the final Olympic game for Tamika Catchings, who is retiring after the WNBA season. Sue Bird and Diana Taurasi have also hinted that this might be their Olympic finale, too.
Two talented young boxers who could wind up being the future stars of the sport faced off in the bantamweight gold medal bout. Robeisy Ramirez of Cuba won in a split decision over American Shakur Stevenson in an entertaining match in front of a fired-up, pro-Cuban crowd.
Seven medal events are being held in track and field. At the age of 37, Ruth Beitia won her first major championship with a gold in high jump. Caster Semenya of South Africa won the Olympic title in the 800 meters with no one close to challenging her. Mo Farah of Britain became the first runner in 40 years to win back-to-back long-distance doubles at the Olympics by taking gold in the men's 5,000 meters.
The U.S. men's 4x400 relay team, led by LaShawn Merritt, is heavily favored to win and extend the country's remarkable run in Rio — 27 medals in track and field.
(With inputs from AP)