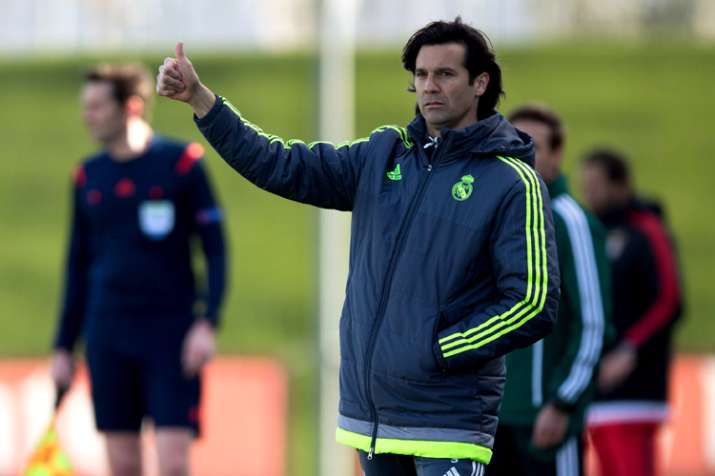 The search is on for a new coach at Real Madrid. With the team reeling from a demoralizing loss to Barcelona and far from the top in the Spanish league standings, Madrid are looking for someone who can turn things around and save the season.
Former player Santiago Solari, coach of Madrid's "B'' team, was in charge of practice on Tuesday, but the club was in a hurry to find a replacement who could quickly put the team back on track.
Madrid fired Julen Lopetegui on Monday, saying it was time to "change the team's dynamic while all of its objectives for the season were still reachable."
The club said the team deserved better results with the quality of players it has. Under Lopetegui, Madrid won six matches, lost six and drew two. The team is ninth in the Spanish standings, seven points behind leader Barcelona after 10 matches.
It wasn't exactly clear what type of coach Madrid was looking for, whether it was a hardliner like Antonio Conte or a more compromising figure like Roberto Martinez. The team's recent success came with the calm-mannered Zinedine Zidane, who quit shortly after leading Madrid to three straight Champions League titles. Madrid can go with the home solution again, as Solari has been following the same path as Zidane, his former teammate and also a former coach of Madrid's "B'' squad.
"Ultimately, the way a dressing room is managed is sometimes more important than a coach's technical knowledge," Real Madrid captain Sergio Ramos said after the Barcelona loss at Camp Nou.
Solari will be on the bench Wednesday when Madrid faces third-division club Melilla in the Copa del Rey. The team then plays on Saturday at home against Valladolid in the Spanish league.
Here's a look at the top coaches considered candidates to take over Madrid:
ANTONIO CONTE
The Italian is touted by Spanish media as the front-runner.
He carries the experience of having coached Chelsea and Italy, but against him is the fact that his authoritarian style may not bode well with a Madrid squad filled with strong-minded veterans.
"Respect is something that you earn, not that you impose," Ramos said.
His arrival could also make it harder for Madrid to sign Belgium playmaker Eden Hazard, who was at odds with the Italian coach at Chelsea.
Another drawback is that Conte still has money to receive from Chelsea, so reaching a financial agreement would not be something straightforward.
ROBERTO MARTINEZ
The Spaniard gained prominence after leading Belgium to a third-place finish at the World Cup, and many back him over Conte because of his calmer demeanour.
"It seems like he is a better option," said Jorge Valdano, a former Madrid player and coach who now is a TV commentator. "He is a coach who can help this team turn things around. He seems a better fit for Real Madrid."
Against the 45-year-old Martinez is the fact he has no experience with a top club. His last job before taking over Belgium in 2016 was with Everton in England. In 2013, the former player led Wigan to the FA Cup title.
An agreement with Martinez also isn't straightforward as he remains under contract with Belgium for a few more months.
SANTIAGO SOLARI
Solari was announced as an interim coach but wasn't ruled out as a candidate for the permanent position.
The 42-year-old former Argentina midfielder played for Real Madrid in the early 2000s and has been back with the club for some time.
He helped the team win the 2002 Champions League title, being involved in the play that led to Zidane's superb winner in the final.
Solari also played for River Plate, Atletico Madrid and Inter Milan.
He has been coaching Real Madrid's "B'' team since 2016, taking over not long after Zidane left to coach the main squad.
OTHERS
A few other coaches are considered longshots but can't be fully ruled out, including Arsene Wenger and Jose Mourinho, the former Madrid coach who is struggling with Manchester United.
Tottenham manager Mauricio Pochettino also was seen as a possible replacement for Lopetegui.