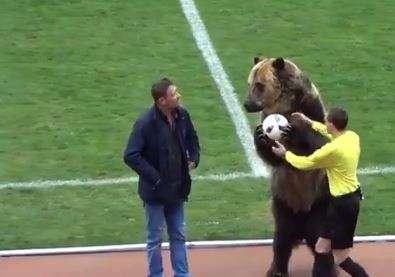 Various animal rights groups have condemned in what is a bizarre incident in a football match. With the FIFA World Cup 2018 just two months away from commencing, host nation Russia came up with something extraordinary and has faced some severe backlash. A video surfaced across the internet where before a third-division Russia football match could kick-off, a grizzly bear performed a few tricks and handed the ball to the match referee as well. Yes, that's true. 
The routine happened before the match on Sunday in the city of Pyatigorsk and the TV footage showed the bear clapping at the spectators present in the stands at the Mashuk-KVM Pyatigorsk club's stadium. 
The bear, named Tima, was borrowed from a circus. More surreal news comes its way, as the stadium's announcer claimed that Tima will take part in the FIFA World Cup's opening ceremony in Moscow, but the soccer authorities haven't confirmed that yet. 
The New York-based World Animal Protection group condemned the stunt Monday, saying that it's clear from the footage that "cruel training methods have been used" on the bear.
Rustam Dudov, manager of the Mashuk club which arranged for the bear to perform, told the Sport-Express newspaper Monday that the bear was borrowed from a travelling circus which approached the club suggesting that the bear perform before the game. Dudov said the Russian Football Union approved the performance.
The people have not taken this situation likely and have their share on the matter as well. 
Performing bear at Russian football match, inhumane and inexcusable. Sickening.

— Lynda McIvor (@deanabarbina) April 17, 2018
Only two months left to go for more Russian bear football antics...

— 🎄🦄🐨Adele K. Thomas🐨🦄🎄 (@AdeleKThomas) April 17, 2018
That Russian bear thing? Oh man, that was grim. I hope it eventually turns on its tormentors. pic.twitter.com/WdFUOLnTQd

— David Squires (@squires_david) April 17, 2018
(With AP Inputs)