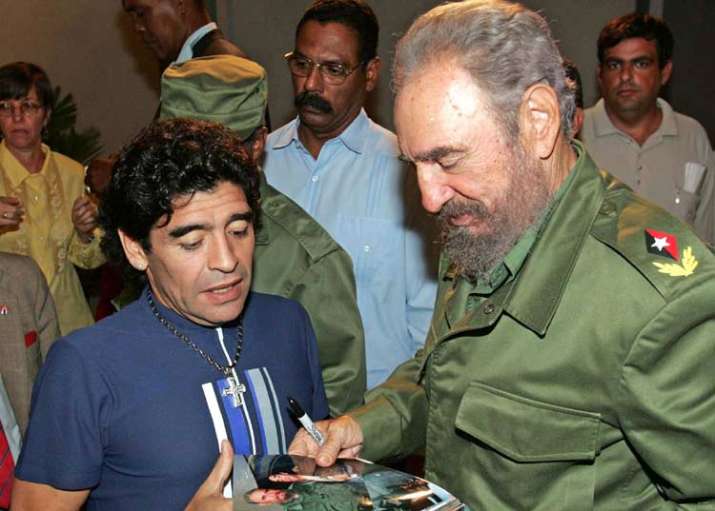 Legendary Argentinean footballer Diego Maradona on Saturday mourned the death of Cuban revolutionary leader, Fidel Castro, who he said was "like a second father".
Castro passed away on Friday at the age of 90, with the Cuban government declaring nine days of national mourning. 
Maradona spoke to the press in Zagreb, Croatia, where he has travelled to watch the Davis Cup Final between Argentina and Croatia.
"I cried a lot because he was like my second father. I lived four years in Cuba, and Fidel used to call me to speak about politics or sports, or whatever happened in the world. I was always up to talking and that's the most beautiful memory about him," Maradona said. 
According to Maradona, after his parents, the death of Castro gave him the greatest pain. "He opened doors for me when clinics in Argentina closed them, because nobody wanted (to deal with) the death of Maradona," he said. 
"I wanted to thank him all my life because he talked to me a lot about drugs, a lot about my recovery, and encouraged me. I did it and I am here today talking about him, and like I said before, maybe in my subconscious I went there to say goodbye to him," added a visibly moved Maradona, who has a tattoo of Fidel Castro on his leg.
Maradona met Castro for the first time in 1987 when he visited the island and they became close friends.
Castro's ashes will be interred on December 4 in the cemetery of Santa Ifigenia in Santiago de Cuba, alongside other Cuban heroes, such as Jose Marti, after nine days of mourning.