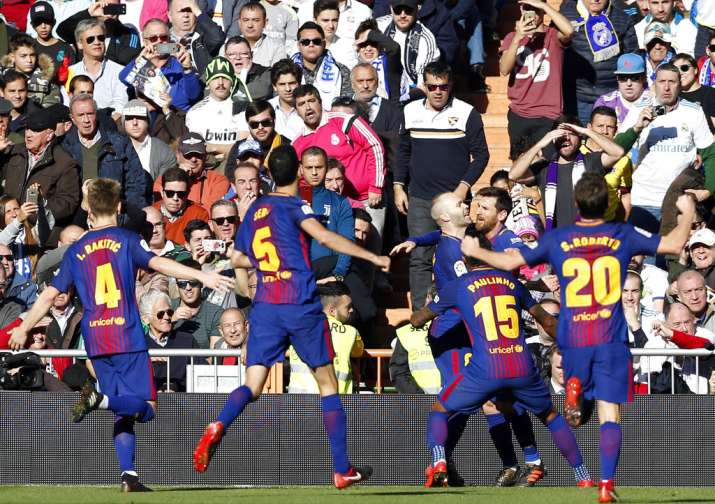 Lionel Messi and Luis Suarez scored as Barcelona beat 10-man Real Madrid 3-0 Saturday in the Spanish league, dealing a huge blow to its fiercest rival's title defense. Suarez struck in the 54th minute of the "clasico" and Messi added a penalty 10 minutes later after Madrid's Dani Carvajal received a direct red for stopping a goal-bound header by Paulinho.
Messi also set up substitute Aleix Vidal to round off the commanding win in stoppage time.
The victory by Ernesto Valverde's team put Barcelona 14 points clear of Madrid, which remained in fourth place with a game in hand.
"It is a loss that hurts," said Madrid coach Zinedine Zidane. "It is a very, very difficult match for us. But this is not over. It might look like it, but we can never give up."
Barcelona increased its lead to nine points over second-place Atletico Madrid, which lost at Espanyol on Friday.
"We took another step forward in the league," said Barcelona midfielder Andres Iniesta. "But I don't rule out Madrid. This is a long-distance race. Madrid is a very good team and they are not out of the title race."
Barcelona also extended its unbeaten streak to 25 matches across all competitions since losing to Madrid in the Spanish Super Cup in August, when Barcelona was reeling from the departure of Neymar to Paris Saint-Germain.
That all seemed light years away on Saturday with Barcelona resisting an early push by the hosts before imposing its will.
"There is a long way to go, but it is true that we are ahead and with significant leads over our rivals, but nothing is decided. The season is not even halfway over," Valverde said. "They were better when we played in the preseason, we won today. Football takes those twists and turns."
The match was a contrast in tempos: Madrid wanted a frantic, up-and-down shootout, with Ronaldo having space to roam, while Barcelona wanted to hold the ball and let Messi pick his moments.
Ronaldo beat Messi for the Ballon d'Or earlier this month but the Portuguese failed to make a decisive impact on Saturday as Messi took his "clasico" record to 25 goals in 37 matches and his season-leading tally to 15 in the league.
Zidane left Spain midfielder Francisco "Isco" Alarcon on the bench in a surprise move. Instead, he gave Mateo Kovacic his first league start of the season, hoping to repeat his success from the Spanish Super Cup when the Croatian was charged with man-marking Messi.
Ronaldo had an early goal disallowed for offside before the Madrid star completely missed making contact with Toni Kroos' pass in his best chance to score in the 10th
After Barcelona shook off Madrid's early intense pressure, helped by the more physical Kovacic, the Catalan club made Madrid look clueless.
Barcelona went close to scoring when Messi found Paulinho with a forward lob, only for goalkeeper Keylor Navas to tip his strike over the bar in the 30th.
It was then Marc-Andre ter Stegen's turn to get his foot on Ronaldo's strike to turn it past the post.
Paulinho tested Navas again with a header from another pass by Messi to culminate Barcelona's attack with one-touch passes. Madrid responded by again attacking through left back Marcelo, whose cross Karim Benzema headed off the post in the 42nd.
Barcelona grabbed control after the interval, and Suarez forced a save from Navas before the Uruguay striker scored the opener.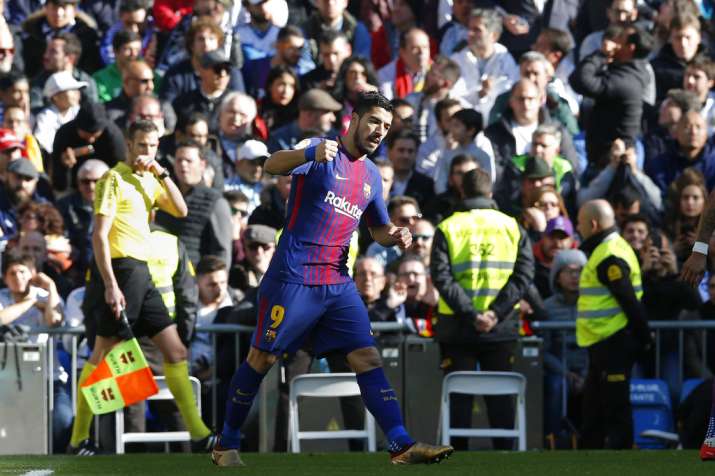 Sergio Busquets cued Barcelona with a forward pass for Ivan Rakitic, who pushed down the middle before playing Sergi Roberto wide. The right back's one-touch pass found Suarez arriving from the left to drill his shot under Navas.
Madrid collapsed after falling behind, losing ball after ball to Barcelona.
Messi seized the moment by playing Suarez clear. After Suarez hit the post, Carvajal blatantly used his arm to stop Paulinho's header from going in — a decision that earned him a direct red card and sent Messi to the penalty spot to fire his strike into the corner of the net.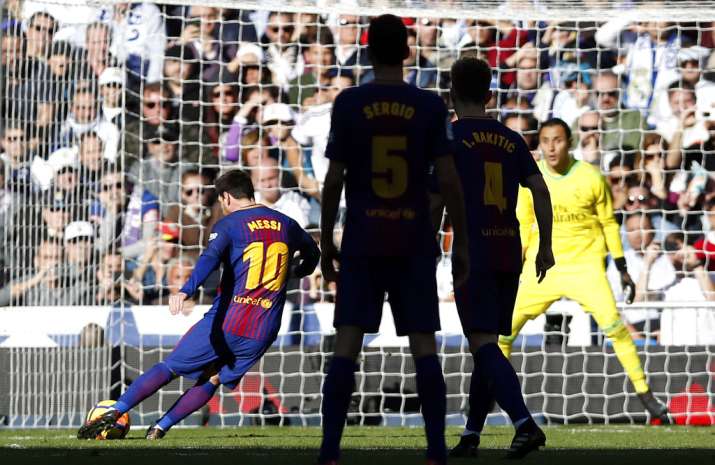 Trying to spark a comeback, Zidane sent on forwards Marco Asensio and Gareth Bale, who drew a save from Ter Stegen in the 77th.
But it was Messi who reached the endline before finding Vidal to cap the win, as Barcelona won a third straight league visit to the Santiago Bernabeu for the first time in their long rivalry.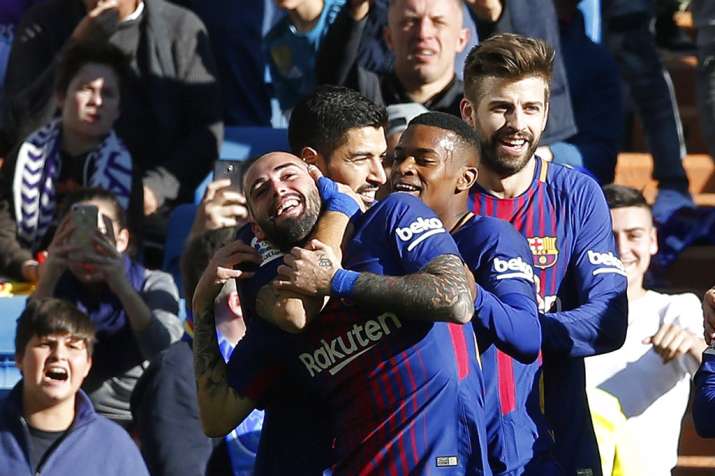 "We will start 2018 in a difficult position," said Madrid defender Raphael Varane.
The game came only two days after separatist political parties in Catalonia, whose capital is Barcelona, won a majority of seats in the regional parliament.