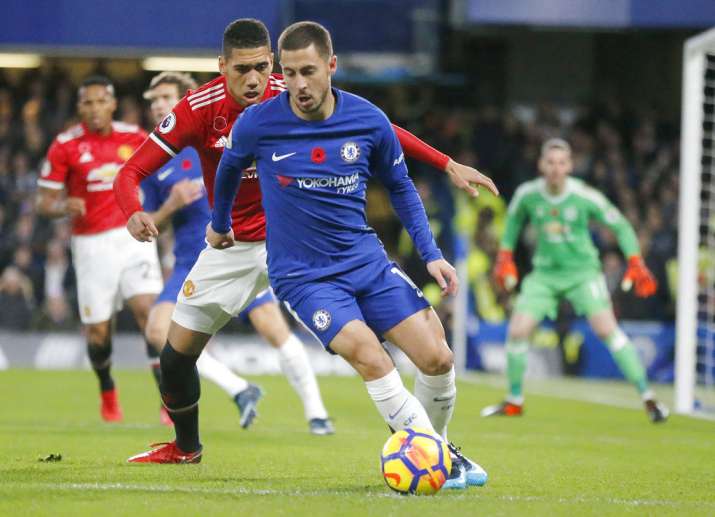 Chelsea winger Eden Hazard has expressed his desire to play under Real Madrid's coach Zinedine Zidane and has said that the former Madrid player is 'my dream coach and idol'. The Belgian forward has been speculated to play for the Los Blancos since last year after the Madristas wanted to bring in a winger as a replacement for the four-time Ballon d'Or winner Cristiano Ronaldo. Hazard has not been in the greatest forms for a while now but does play a crucial role in Antonio Conte's team. 
Chelsea recently pulled off a win against rivals Manchester United 1-0 where former Madrid striker Alvaro Morata headed in a stunner at Stamford Bridge to add three points in the table. 
"Zinedine Zidane would be a dream to have as a coach," the Belgian international said as media reports suggest. 
"He was my idol when I was little, I have a lot of respect for him," Hazard added. 
The 26-year-old Chelsea playmaker who has made 182 appearances for the London club since 2012 also said he is unsure about his future. 
Ronaldo was uncertain about his future at the Santiago Bernabeu after his impending tax cases in early parts of the transfer window. Ronaldo eventually stuck on with Madrid and has a contract till 2021. 
"Of course, I don't know what will happen in my career in the future, but to play under him would be a dream," the winger said. 
"At this time, though, I'm happy at Chelsea. I still have a lot of things to do at Chelsea, and I'm focused on Chelsea," Hazard added. 
Chelsea are the defending Premier league winners but their current form at the moment places them in tough competition with rivals Manchester City, United and Tottenham Hotspurs. With the International break currently on, the league would resume next week where Chelsea take on West Bromwich Albion on November 18.
(With IANS Inputs)