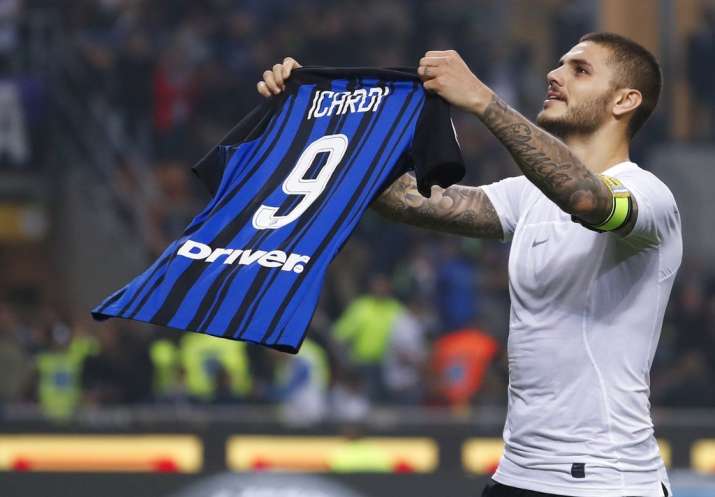 Mauro Icardi is a goal predator. Seemingly absent one moment, he swoops in unannounced to score in the next.
The Argentine striker had a hat trick in Inter Milan's 3-2 derby victory over big-spending AC Milan on Sunday, displaying perfect timing to redirect two crosses, then calmly converting a penalty for the winner in the 90th.
"He was magnificent," Inter coach Luciano Spalletti said of Icardi, the Nerazzurri captain. "Because with all of the responsibility he carries, he remains humble, he listens to instructions, he helps his teammates and then he runs 60 meters to go score. When he doesn't stand still up front he can't be marked. He's a complete player."
Defeated Milan coach Vincenzo Montella said, "Inter has devastating quality up front."
It was an entertaining Derby della Madonnina, with Suso and Giacomo Bonaventura each scoring temporary equalizers for Milan and both sides hitting the goal frame.
Undefeated Inter took sole possession of second place, moving two points behind perfect Napoli and three ahead of six-time defending champion Juventus and Lazio.
Next weekend, Inter visits Napoli.
While there's still plenty of room for improvement, Inter is already far ahead of where it was at this point last season when it appeared lost under Frank de Boer.
Including Roberto Mancini's surprise resignation two weeks before the season began, Inter struggled through four managerial changes in 2016-17 and finished seventh to miss out on European competition.
But order appears to have been restored with the appointment of former Roma coach Spalletti in June.
Milan, which was bought by a Chinese-led consortium in April, spent more than 200 million euros (nearly $250 million) on new players in the offseason. But after a strong start to the season, the Rossoneri have lost three straight and sit 10th with half as many points as Napoli.
"I'm upset with the result considering the way we played and the period we're in," Montella said before being shown the table. "There's little to say. It's ugly and we don't like it. I don't want to look at it."
Leonardo Bonucci, the centrepiece of Milan's massive overhaul, was beaten for Icardi's opener midway through the first half.
On his first touch in the opponents' six-yard box, Icardi redirected a tremendous cross from Antonio Candreva as Bonucci trailed behind.
Icardi barely touched the ball but somehow landed it in the far corner.
Candreva had already hit the crossbar 13 minutes in at the San Siro, less than a week after he scored the only goal in Italy's win over Albania.
Andre Silva — one of the 11 new players Milan signed — hit the post for Milan shortly before Suso scored in the 56th with a long, bouncing shot from beyond the area.
After the hour mark, Icardi got his second by again redirecting a cross into the far corner, this time with a volley following Ivan Perisic's pass.
Bonaventura slid in at the far post and made it 2-2 in the 81st but then Ricardo Rodriguez, another new signing was shown yellow for a clear foul on Danilo D'Ambrosio and Icardi converted the decisive spot kick.
"I had told some teammates that I would score three goals," Icardi said. "Now I'm taking the game ball home with me."
Montella didn't think it was a penalty.
"He didn't pull him down," the coach said.