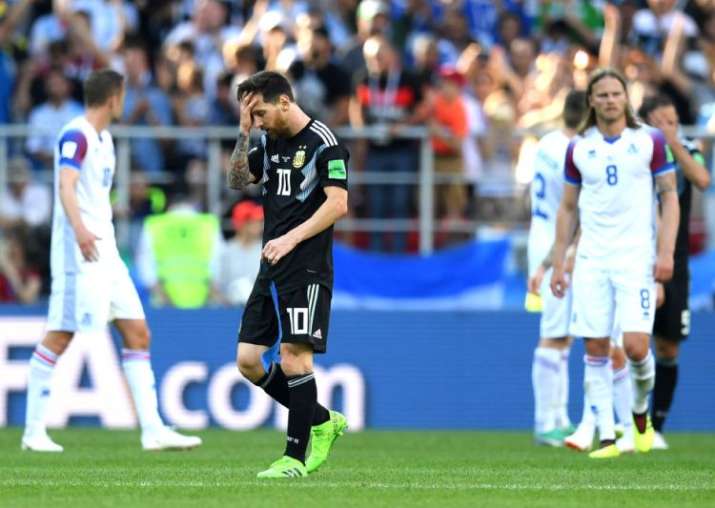 Argentina star Lionel Messi expressed regret after failing to convert a penalty in the second-half, the penalty could have led his team to the victory over Iceland in a Group D match at the FIFA World Cup 2018 on Saturday. (FIFA WORLD CUP 2018 SCHEDULE & RESULTS)
The match at Otkritie Arena in Moscow, which featured two first-half goals, ended in a 1-1 draw.
"It hurts to have missed the penalty, because it would've been the decisive advantage," the FC Barcelona talisman said after the game, though adding the draw had not dampened the team's hopes in Russia, reported Efe.
"We haven't lost hope despite the draw. We still have the same desire. I think we deserved to win. We tried to find spaces in the Iceland defence, but we couldn't find them," he added.
Messi denied that the draw would affect the team in its next Group D contest on Thursday against Croatia, adding that "we have some days to rest and get well-prepared for the match."
"We weren't thinking about starting with one point from the first match, but it's the first match. No one gives anything away. It's a very even World Cup and you're seeing that, because all the games are very close," he added.
Messi had a weak 64th-minute shot easily saved by Iceland goalkeeper Hannes Halldorrson after Sergio Aguero of Argentina and Alfred Finnbogason of Iceland struck first half goals during a hard fought Group D match at the Spartak Stadium.
It was an encouraging display for Heimir Hallgrimsson's men, who showed surprising attacking intent early before weathering an Argentina onslaught in the second half.
Argentina, meanwhile, will be rueing a raft of missed opportunities, especially in the final half hour. Their next match against Croatia on June 21 is suddenly a must-win affair as the two-time champions seek to avoid an early tournament exit.
(With IANS inputs)