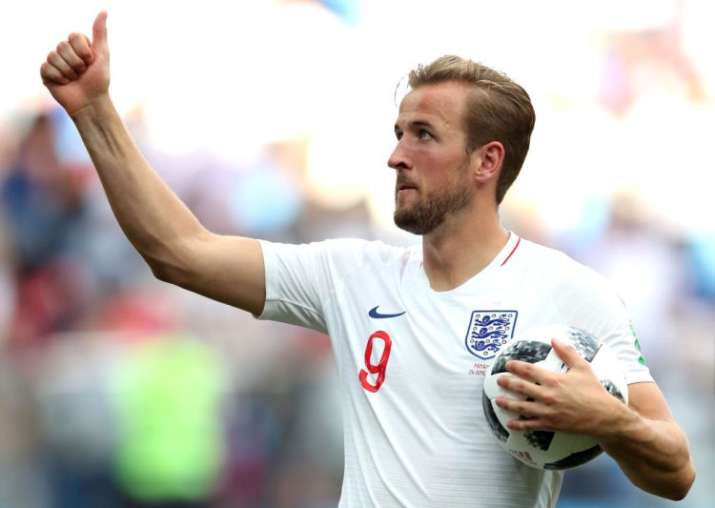 Harry Kane scored a hat-trick to help England to their most one-sided FIFA World Cup 2018 victory, a 6-1 rout of Panama on Sunday that secured a place in the last 16 with a game to spare. It was England's biggest victory margin at the World Cup in their highest-scoring game since 1966. (FIFA WORLD CUP 2018 SCHEDULE & RESULTS)
That previous high-scoring affair turned out well, too, with England beating Germany 4-2 to win their only World Cup title.
Four years ago, England failed to win a match at the World Cup and was eliminated in the group stage.
On Sunday, England were taking on a weaker team: A Panama side making their World Cup debut. The loss eliminated Panama and Tunisia, while putting Belgium into the round of 16.
Kane's three goals moved him into the lead with five at this year's tournament, one more than Cristiano Ronaldo and Romelu Lukaku after two games.
John Stones headed in two goals and Jesse Lingard curled in another to ensure England goes into their Group G finale against Belgium level on points and with the same goal difference.
In Russia, England have been trying to cast aside the negativity of the past while remolding the image of the team on and off the field. Even locals were supporting the team in Nizhny Novgorod, despite the bitter diplomatic relations between Russia and Britain.
The egos who dominated in England's celebrity-obsessed, underperforming Golden Generation in the first decade of century have gone. The joy and togetherness in the squad — the second-youngest in Russia — becomes clear in the goal celebrations.
Where past England teams might have wilted in warm temperatures, this one pressed with high-tempo intensity to ensure there was no need to scrape a victory like on Monday against Tunisia.
England picked up where they left off in Volgograd, with a corner from Kieran Trippier headed into the net in the eighth minute. It wasn't Kane on the end this time but Stones, who was left unmarked to score his first international goal.
Kane didn't have to wait long to add to his tally, converting from the penalty spot in the 22nd after Lingard was brought down by Fidel Escobar.
Lingard did get on the scoresheet in the 36th with the pick of the goals. The Manchester United forward played a 1-2 with Ashley Young and exchanged passes with Raheem Sterling before shifting the ball across and bending it into the top corner.
The fourth goal was the culmination of a well-worked free kick with Sterling's close-range header parried by goalkeeper Jaime Penedo. Stones was primed to follow-up, giving the defender his second.
However much they tried, Panama struggled to block England's route to goal. Anibal Gody resorted to trying to wrestle Kane to the ground, only to concede a penalty that was converted by the Tottenham striker.
England were merciless. At 5-0, the job was complete by halftime.
Chasing the golden boot, Kane relied on his heel to complete his hat-trick by getting the faintest of touches to divert Ruben Loftus-Cheek's shot into the net.
England could afford to ease up and preserve energy but it cost the team first place on goal difference. Felipe Baloy slid to meet Ricardo Avila's free kick and score Panama's first World Cup goal.
Panama, beaten by Belgium 3-0 in the opening game, finally had something to celebrate, briefly.
KEY TO SUCCESS
England had spells of sloppy defending that could be punished by stronger teams, like Belgium. But by taking their chances and exploiting a porous defense, England showed what they are capable of.
GROUP DYNAMICS
The winner of the England-Belgium match on Thursday in Kaliningrad will win Group G. In the event of a draw, it could come down to which team has fewer yellow cards.