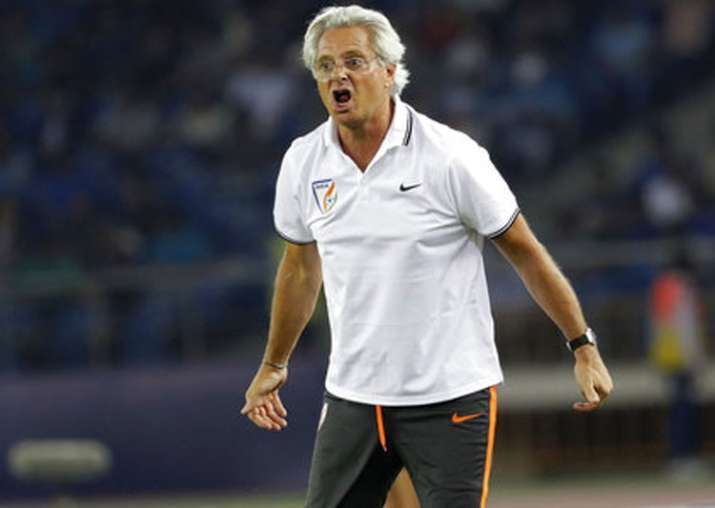 India coach Luis Norton de Matos today said they are ready for a physically and technically superior Colombia and will "fight till the last minute" in their Group A match of the FIFA U-17 World Cup in Delhi on Monday. In their maiden World Cup appearance, India were blanked 0-3 by the USA on Friday, and the coach was not pleased with the result. 
"Colombia are tough opponents and they possess the necessary elements to hurt us. We have to be on our toes all throughout and have to focus on the task at hand. They (Colombia) will also give us a tough physical fight but we are ready for it," Matos said on the eve of the team's second game. 
However, Matos said his boys will give "Colombia a run for their money". 
"The team will fight to the last minute and play with confidence giving Colombia a run for their money. 
Colombia lost 0-1 against Ghana in the opening match of Group A and although the South Americans are also yet to open their account, the Indian colts are at the bottom courtesy their goal difference. 
"We will play to win. There is no other alternative for us. Every match we play is to win and if we win against Colombia we will be creating history," Matos stressed. 
"The eventual target is to secure progression to the next stage while taking one game at a time. The strength of the Indian team is their collective ability to play football as a combined unit and we bank on that factor to help us win against Colombia." 
Asked how different will be India's outing against Colombia from the USA drubbing, he said, "Against USA, we had a nervy start and the players were shy and could not play their game against a team of the quality of USA. 
"It was their first match ever in a FIFA World Cup and emotions can be a little hard to control when you play in front of 55,000 people for the very first time," Matos pronounced. 
Meanwhile, the players are all geared up for the next challenge. 
"Winning and losing are part of football. What matters is how well we recover and learn from our losses and continue to move forward," said striker Komal Thatal. 
"We will give it our very best as it is a do-or-die game for us if we have to remain in contention of progression." 
Aniket Jadhav brushed aside the pressure factor and stated, "Pressure is always there when you play football. We had pressure in the first game and we gave USA a very tough fight. It will be there against Colombia as well, but this time we are not looking to give a tough fight, we are looking to win." 
Rahul KP added: "We have already created history by becoming the first Indian team to participate in a FIFA World Cup, now we want to create history by becoming the first Indian team to win a match in the FIFA World Cup." 
Skipper Amarjit Singh said his team would do everything to win on Monday. 
"At the same time, we have huge respect for Colombia. They are one of the best teams in their region. But this is a matter of survival for us and we will do everything to be in contention of progression." 
The Indian U-17s had played Colombia in a Four-Nation Tournament in Mexico City, Mexico where the young colts lost 0-3. 
When asked if the team learned anything from that outing, Matos said: "Every match is a new match as every day is a new day and playing in a FIFA World Cup is a different challenge for both teams as compared to a friendly match. It will be a different setting altogether with different tactics and technicalities.