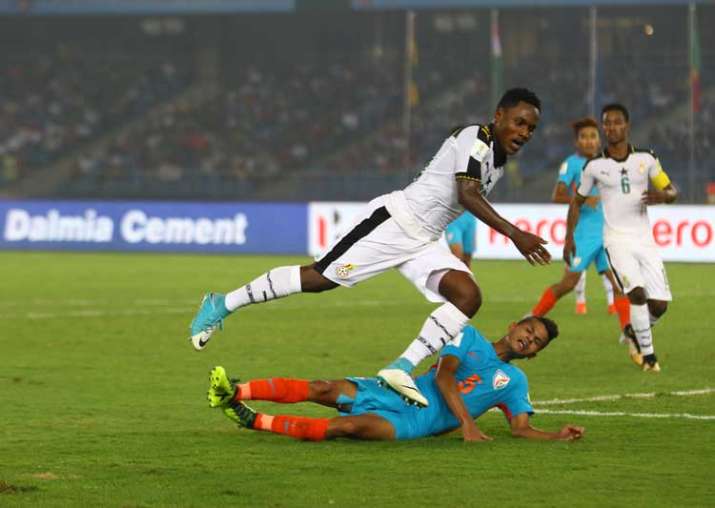 India ended their FIFA U-17 World Cup campaign on a poor note, suffering a heavy 0-4 defeat to Ghana in their last Group A match of the tournament in New Delhi on Thursday. Ghana skipper Eric Ayiah (43rd, 52nd minutes) struck a brace, bulging the net on either side of the break before Richard Danso (86th) and Emmanuel Toku (87th) scored in quick succession towards the end.
Ghana started the match on a bright note as they brought in pace and accurate passes and managed to maintain the same energy level throughout the entire 90 minutes. India were outpaced throughout the match as the physicality made a major difference again. India's last match in the FIFA U-17 World Cup didn't end as expected. Ghana finished the group stage with six points from three matches. They took the top spot in the group due to a superior goal difference ahead of the US and Colombia who also finished with six points each.
Ghana coach Samuel Fabin was proud of his players and stated that his team could have scored more goals.
"The scoreline is a reflection of our performance. We could have scored more as our tactics allowed us to score goals. I am really happy with the performance," Fabin said at the post-match press conference.
India were bright in the first half with pace and great ball control despite Ghana hogging all the possession. However, a tap-in through a cross in the 43rd minute came as a shock. India's goalkeeper Dheeraj made an excellent save from a low cross sent from the right wing but the defenders couldn't manage to clear the ball from the six-yard box for Ayihia to start the scoring of the game. After conceding the first goal, it all went downhill from there on.
"The Indian team never posed a threat today as the score says it all and unlike the previous performances, we were able to perform. For India, there is still room for improvement," said Fabin.
"Our plan was to start on a high note and to play fast pace football. We have equally good players and any player could play well, i believe in every player," he added.