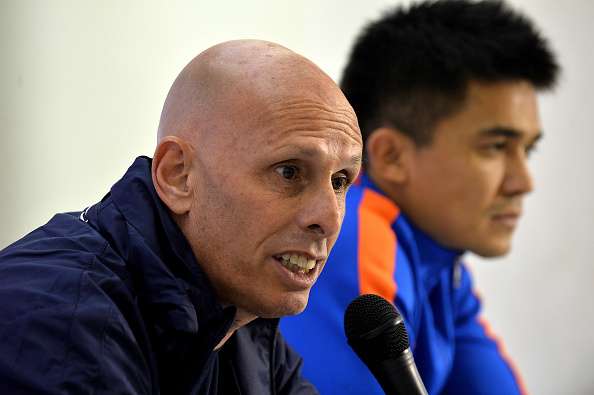 The India football team coach Stephen Constantine on Thursday cautioned the Indian players against getting carried away by the recent leapfrog in FIFA rankings which has placed India at their second-best position so far of 96th. It has been their best position so far since 1996.India is now the 11th highest placed team in Asia so far with their win over Nepal and Kyrgyzstan in the Asia Cup Qualifiers.
"There is always the next game which comes to your mind. So it's not always possible to enjoy the moment. That's how life is as you are always trying to get better. People may be tempted to go crazy with the recent rise in rankings and the results, but we cannot get carried away," Constantine was quoted as saying by All India Football Federation's (AIFF) official website.
"I have always had an emotional attachment with India. Having said that, 2015 was the first year after the Indian Super League was launched. I could foresee a change coming as Indian Football had itself decided that it needed to change. I felt that I could help them go forward. Luckily, Mr. (Praful) Patel also thought the same," Constantine said.
India have won 12 of their last 14 matches -- including an unofficial friendly against Bhutan. They have, in the process, jumped 77 places up the FIFA rankings ladder.
"If you look at the current team that started in our last two matches against the Kyrgyz Republic and Nepal, seven from the first XI have been introduced through a process in the last two years," Constantine said."That's what satisfies me - the immense progress that the boys are making. I did the same thing in Rwanda, Malawi, Sudan, Nepal and even the first time I coached India," he added.
Former English footballer and current Indian Football coach Stephen Constantine has certainly created a major impact on the players since he joined in 2015. With Sunil Chettri taking on the mantle as an elder statesman, his stunner against Kyrgyzstan proved that the 32-year-old has enough power in his boot left to shoot from a distance while skipping over the defense.
In the Asian Cup 2019 qualifiers, India had begun with consecutive victories over Myanmar away and Kyrgyzstan at home in Group A.. The Indians next face Macau away on September 5.
( With IANS Input )