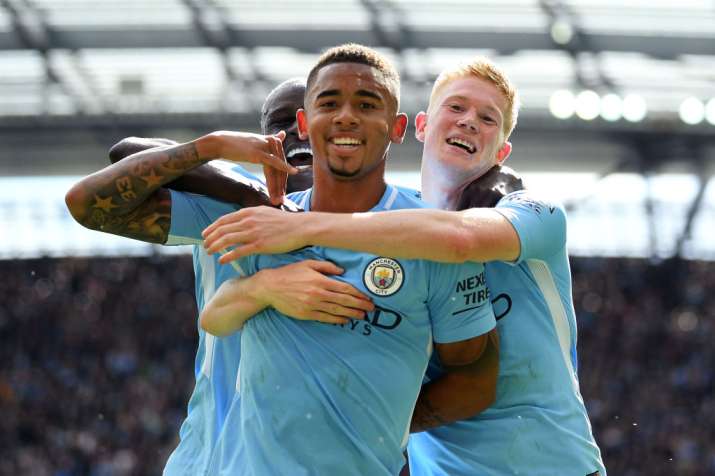 In the Premier League fixture between two heavyweights, Manchester City and Liverpool, the hosts routed the visitors 5-0 with Aguero, Sane, Jesus and Kevin De Bruyne dancing around the weak Merseyside defence as Pep Guardiola's City ensured that his spendings didn't go in vain. Jurgen Klopp's men were coming off a great win over Arsenal after hammering the Gunners 4-0, did not expect a rampage from the noisy Manchester City.
Mendy trolled his teammate Kyle Walker while playmaker De Bruyne asked Gabriel Jesus if he needed another assist. With two exquisite assists for the City strikers, the Belgian took to twitter to ask the players if they needed any more help. The former Chelsea and Wolfsburg player has played a vital role in City's attack as Guardiola aims to clinch the EPL cup this season after spending over 500 Million Euros in the summer transfer window.
The main highlight after the match would be Mendy and De Bryune's twitter posts which sent the football fans into a frenzy. Mendy assisted Sane in the fifth goal of the match to ensure a complete destruction of the Merseyside club.
After the match, De Bruyne posted a tweet to the budding Brazilian talent.
Call me if you need another assist @gabrieljesus33 📞😂🙈 pic.twitter.com/n1tSZ4XUwl

— Kevin De Bruyne (@DeBruyneKev) September 9, 2017
While Mendy trolled the former Tottenham Hotspurs defender who was unfortunately snapped by a photographer in an awkward position during the match which sent the fans into a meltdown.
Someone please find the sniper in the stands !! Hahaha 😭😂 @kylewalker2 u ok boi ?! 😂💙💙💙 pic.twitter.com/0BNIUbrTNI

— Benjamin Mendy (@benmendy23) September 9, 2017
Pep Guardiola and Jurgen Klopp have encountered each other many times before in Bundesliga as Guardiola managed Bayern Munich and Klopp led Borussia Dortmund. 
Liverpool next face Spanish giants Sevilla while Manchester City take on Dutch league's Feyenoord in the Champions League group stages.