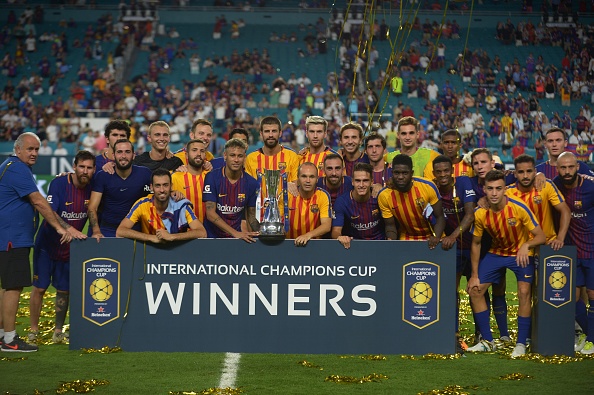 The El Classico, a match faced between the Los Blancos and the Catalans is is one of the biggest rivalry in European football as the two Spanish giants faced off on foreign soil this time in Miami, USA as the La Liga champions Real Madrid took on Copa Del Rey winners FC Barcelona with the same result to occur again as Barcelona won the International Champions Cup 3-2. It was far from a friendly clash at the Hard Rock Stadium in front of a sold-out audience. It was Lionel Messi and Rakatic who opened the scoring for the match as Barcelona were 2-0 goals up in 7 minutes of the match. With Kovacic and Marco Asensio leveling the score before half time, the match had produced its class in front of the Americans and also reminded the world that why it is one of the most highly anticipated matches in football.  
In the 50th minute, Gerard Piqué added his name to the scoresheet as he places the ball at the back of the net with Neymar's cross. The Catalans were rampant at all times as their counter attack play was brilliant. With Portuguese winger and 4 time Ballon D'or winner, Cristiano Ronaldo not playing the result was evitable. Real Madrid lost two matches against the Manchester teams where United won on penalties while City hammered Real Madrid 4-1.
The score is familiar to all as it was the same result as last time when Barcelona faced Madrid in the Santiago Bernabeu stadium in Madrid. In the dying minutes of the match with the score level 2-2, it was none other than the Argentine great Lionel Messi who stepped up and brought the Catalans an emotional victory over the Madridistas. 
With Neymar again shining in the limelight with his 2 assists, speculations still travel around whether the Brazilian will stay at Camp Nou or leave for Paris with a record shattering deal of a 220 Millions Euros. Defender Piqué put up a post on twitter along with Neymar with a caption 'Se Queda' which translates to 'He stays'. 
The Brazilian winger has made up his mind to move to Parc des Princes and the deal will be completed by next week as media reports suggest. Ernesto Valverde and team mates want the youngster to stay as Barcelona kick off their pre-season tour by defeating their rivals to hold their first silverware of the new season.
Barcelona will face Real Madrid again for the Super-Cup Final on August 14.