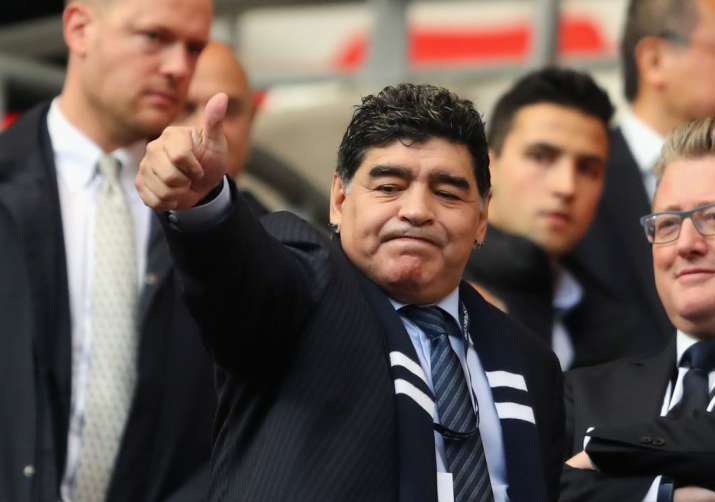 Legendary Diego Maradona finally kept his date with the football-crazy city for a three-day private trip, which was originally scheduled in September. 
Sporting a blue T-shirt and a cap, the Argentine and his female companion landed past 7 pm via Dubai and headed straight to the hotel in New Town, Rajarhat. 
This was the 1986 World Cup winner's second visit to the city after December 2008, when thousands of fans gathered near the airport and lined up the streets well past midnight to welcome their football icon. 
But with his latest trip mired in postponements for more than once and an air of uncertainty till the last minute, it was a low-key arrival for Maradona, as only handful journalists and some officials were seen at the airport and the hotel. 
"It is such an honour for me to be able to make this trip. Kolkata is a very special place and I have good memories from my trip there many years ago, the fans were fantastic," Maradona said. 
"India is a very passionate football nation, and I look forward to meeting a whole new generation of fans while continuing to spread the overwhelming love that I have for this beautiful game." 
Originally scheduled to arrive on September 19, on the day of Mahalaya to kickstart the auspicious Durga Puja festival, Maradona was to unveil his statue besides inaugurating a north Kolkata pandal. 
With Durga Puja over, Maradona's schedule has been altered a bit as he will now meet some cancer-afflicted patients in a charity at the same club and will also lay the foundation stone of his statue tomorrow afternoon. 
He also has some sponsors commitments towards the evening and will attend a gala dinner. 
The much-hyped Dada versus Diego exhibition involving Kolkata cricket icon Sourav Ganguly will now take place on December 12 on the outskirts of Barasat, about 35 kilometres from the city. 
It is however not clear whether Maradona would play the full match as he had undergone a shoulder surgery a few days back, while a frequent change of dates would also mean many celebrities, who were originally slated to come, may give it a miss.