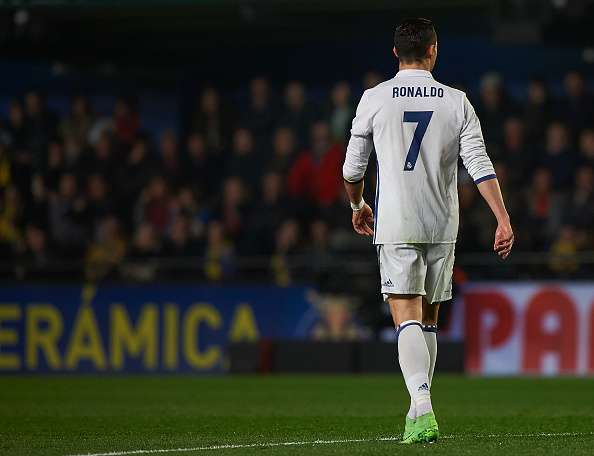 The former Red Devil's star Cristiano Ronaldo has been named in the starting XI of the Real Madrid squad that will face Manchester United for the Super Cup. A tournament that happens between the UEFA Champions League winners and the Europa League winners. Real Madrid face their English rivals Manchester United where Jose Mourinho will meet his former club. 
Ronaldo was away from the Madridista's pre-season tour in USA as he took off time to spend a vacation with his family but the enjoyment was brought to a halt as the Portuguese star was accused of Tax fraud worth 15 million Euros. The Madrid winger was charged with evading his taxes since 2011 according to media reports. Ronaldo had to appear before a judge in court in the latter end of July. 
With Gareth Bale deemed fit, the Welshman will play in his normal position as the left winger, Benzema as forward and Ronaldo as the right winger. The same squad that played in the UEFA champions league finals will be present for the Super Cup at Skopje, Macedonia. 
Manchester United will present their new signings in the starting XI with striker Romelu Lukaku up front, Victor Lindelof in the defence and Nemanja Matic playing his comfort role as the defensive midfielder. 
Phil Jones has been banned for two European games after the defender was found guilty of breaching the governing body's doping regulations after the Europa League final in May. The defender was verbally abusive towards the doping control staff as media reports suggested. Daley Blind was fined because the Dutchman was reluctant to take the doping test.
With the key players missing, Jose would have no problem in replacing the barred players with the likes of Eric Bailey, Chris Smalling and Luke Shaw. 
The Real Madrid and Manchester United clash is a battle of two European heavyweights with each team wanting a player of each side. Red Devil's keeper David de Gea has been a main target for the Madridistas since 2014 after legend Iker Casillas left the club for FC Porto. Manchester United have targeted Gareth Bale as the winger has faced many problems in the Santiago Bernabeu and injury being one of the main causes. With Real cashing in on Monaco's wonder kid Kyilian Mbappe, Bale's role will fit perfect for the young Frenchman. 
Manchester United defeated Real Madrid in the pre-season tour in USA over penalties. With Ronaldo back in the squad, all eyes would be on the 4 time Ballon Dór winner as the winger faces his former club when he left in 2009.
Manchester United take on Real Madrid in the UEFA Super Cup final on August 9 at the Philip II Arena, Skopje, Macedonia at 12.15 PM IST.