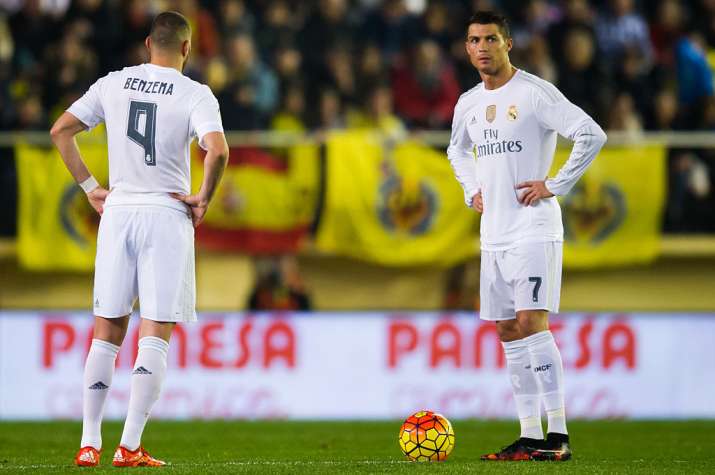 Real Madrid striker Karim Benzema says team-mate and star forward Cristiano Ronaldo is more selfish than him but he enjoys playing with the Portuguese international. The two forwards have not been in the best of terms when it comes to netting in goals and assisting each other but the Frenchman believes that the Portuguese's arrogance is good for the team. 
Ronaldo considers himself as a one-man army but his abilities is what has helped Real Madrid achieve an incredible feat which has helped them rewrite history in the UEFA Champions League. 
"Ronaldo is more selfish than me, but that's normal," says the French international, as media reports suggest.
Benzema who hasn't been in the greatest forms recently feels that the Euro Cup winner's selfish desires is what helps the team score goals. Welshman Gareth Bale who comprises of the 'BBC' of Benzema, Bale and Cristiano, has been seeing the matches go by from the bench as injury has caused Bale to be sidelined at many times. Recently the Welshman was left out of the Wales' squad for the International friendlies due to injury.
Benzema, who has been targetted by other clubs recently renewed his contract with the Los Blancos till 2021 with a staggering buyout clause of 1 Billion Euros. Ronaldo has mentioned that he would not renew his contract with Madrid after 2021, as media reports suggest.
"We get along well, I like to play with him. In the end, his selfishness doesn't bother me, it is good for the team," Benzema, 29, added. 
Real Madrid have been going through a struggle in recent times after the Vikings lost to a debut club in the La Liga, lost their first UCL match against Tottenham Hotspurs after 44 wins and are 8 points behind leaders and arch-rivals FC Barcelona. Zidane's men recently defeated Las Palmas and will next face neighbours Atletico in the Madrid derby on November 18.
(With IANS Inputs)