Follow us on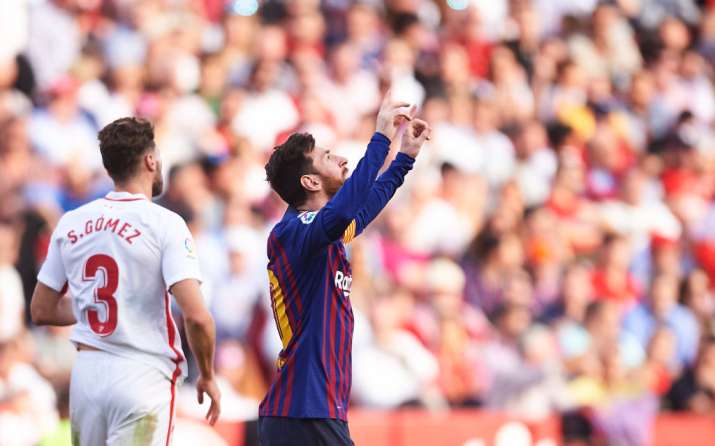 Real Madrid's Brazilian forward Vinicius Jr praised Barcelona's star striker Lionel Messi as an exceptional player, but not a figure to be afraid of.
"He (Messi) is an incredible player, but he scares no one. We are ready to face him," the 18-year-old said.
The two Spanish clubs are to play each other twice within a week, starting with the second leg of the Copa del Rey semi-final on Wednesday at Santiago Bernabeu Stadium. The second clash is in La Liga, scheduled for Saturday, also at Madrid's home ground.
The teams are tied 1-1 after the first leg.
"The Clasico is always a beautiful game, always the best game to play. We are prepared for what is coming and to win. They are two important games and we have them within a week," he said.
Vinicius said Real Madrid had the best players in the world, adding they were capable of defeating their arch-rival Barcelona and reach the Spanish cup final.
Real Madrid's head coach Santiago Solari on January 26 praised Vinicius as the talented youth who has become a key player for the Spanish team in recent matches.
Vinicius, who started the season with Madrid's B-team, has been putting in outstanding performances and becoming both a reference for his team's attack and a headache for rival defenses.
"His adaptation has been very fast up to now," Solari said at a press conference in Madrid on the eve of his team's La Liga contest against Espanyol at RCDE Stadium.
"He is young, just 18 and he has adapted to a new country, a new language, friends, a new neighbourhood and soccer culture, thanks to the team's support, mature players," Solari said.
The Argentine coach also stressed the club has received a player as young as Vinicius very well, which has been the key for the Brazilian to "show his talent in each game," adding they should "continue looking after the player to allow him experience constant growth."
Meanwhile, Messi on Saturday notched his 50th career hat-trick and assisted another goal in FC Barcelona's 4-2 away win over Sevilla in La Liga.