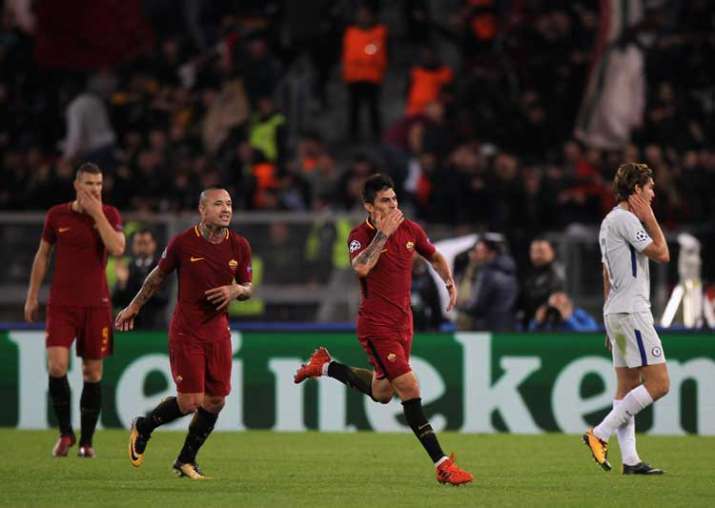 Antonio Conte's wild goal celebrations on the Chelsea touchline are no longer a guaranteed form of entertainment every time the Blues start a match.
A season removed from the English Premier League title, Chelsea is struggling with inconsistency, injuries and perhaps even the will to win.
Stephan El Shaarawy scored two impressive goals and Roma outclassed Chelsea for a surprisingly one-sided 3-0 win in the Champions League on Tuesday that prevented the London club from advancing with two rounds still to go in the group stage.
Conte said his team lacked "motivation, hunger and desire" in the second half.
"Roma was superior," Conte said.
Having weathered a run of three matches without a win capped by the 3-3 draw with Roma in London two weeks ago, Chelsea looked to have rebounded with three consecutive wins over Watford, Everton and Bournemouth to sit fourth in the Premier League.
But this was another step backward - and it was especially disappointing for Conte upon his return to his native Italy in his second season at Chelsea.
Conte earned a reputation with his leaping, fist-pumping celebrations last season, but in this match he stood still for long stretches with his hands in his pockets, disappointment seething inside.
"We need to have the will to dig deep, because if we think that only because our name is Chelsea and the opponent have fear for the name Chelsea it is not that way," Conte said. "We must find the hunger we showed in all last season and this season sometimes. This season (is) up and down. If you are a great team you must have stability and consistency. At this moment we are struggling."
Roma replaced Chelsea atop Group C with eight points, one more than the Premier League team. Atletico Madrid is next with three points and Azerbaijani side Qarabag is last with two points, following a 1-1 draw in Madrid.
Roma posted only its third victory in its last 19 Champions League matches.
"We showed that we're improving. This match should be a starting point," Roma coach Eusebio Di Francesco said. "More than a consecration, it should provide us with the self-belief that we can play at this level."
Roma scored six goals over two matches against Chelsea.
"We knew that with the system they use we could make them suffer," Di Francesco said.
The Giallorossi went ahead almost immediately.
El Shaarawy's first goal came after only 40 seconds for Roma's fastest ever goal in Europe.
Edin Dzeko's slight touch following a cross from Aleksandar Kolarov set up El Shaarawy to blast in from the edge of the area.
El Shaarawy scored his second in the 36th by latching onto a forward pass from Chelsea's summer transfer target, Radja Nainggolan. The Italy forward stabbed in a shot between two defenders.
"He believed in the ball," Di Francesco said.
Defender Antonio Rudiger - who recently transferred from Roma - was to blame, hesitating just long enough to let El Shaarawy onto the ball.
Diego Perotti got Roma's third with a long-range screamer midway through the second half then wasted a wide open chance at another by firing high after an excellent setup from Dzeko.
It was another entertaining and open match like in London but this time Chelsea couldn't find a way past Roma's in-form goalkeeper Alisson.
The Brazil international denied Chelsea forwards Eden Hazard, Alvaro Morata and Pedro Rodriguez on chance after chance.
With Alisson's consistency, Roma has the best defense in Serie A with only five goals conceded in 10 matches.
El Shaarawy also scored an impressive goal in Roma's 1-0 win over Bologna on Saturday, and his form will be welcome to Italy coach Gian Piero Ventura ahead of the Azzurri's World Cup playoff with Sweden.
Nicknamed "The Pharaoh," El Shaarawy has an Egyptian father and an Italian mother. He was born and raised in Italy.
El Shaarawy has flourished since Di Francesco moved him from the left to the right wing.
"He's doing what he's been asked to," Di Francesco said. "He's not remaining isolated for long periods, he's getting involved in the play more. There are a lot of advantages (for playing on the right) and he showed that today."
Roma's only significant mistake came on a failed clearance from Kolarov midway through the first half that set up Morata with a great chance but the former Juventus striker shot high over the bar.
Alisson made a leaping save to deny Marcos Alonso just before the break.
Chelsea will need to regroup quickly with Manchester United and Jose Mourinho visiting Stamford Bridge on Sunday.
"We have to try to understand and to use this loss in the right way," Conte said. "This season will be very difficult if we don't understand very quickly the right way we have to go."