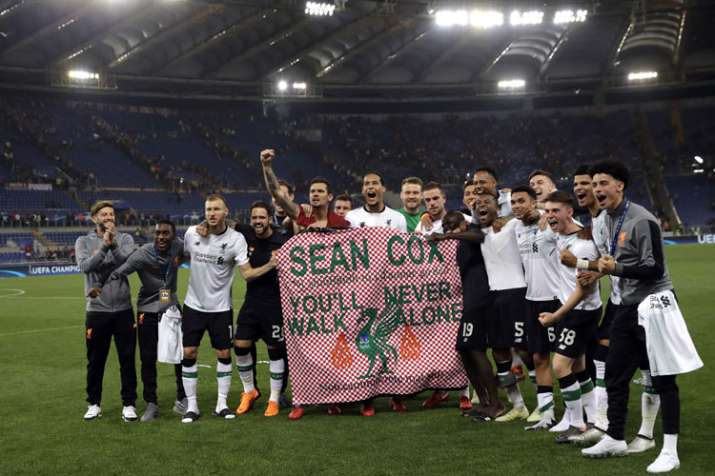 Liverpool players have paid tribute to the Reds fan who was seriously injured in clashes ahead of the first leg of the Champions League seminal against Roma.
After advancing to the final despite losing the second leg 4-2 in Rome, the team lined up in front of the section with Liverpool fans and held up a banner with the text "Sean Cox you'll never walk alone."
Security was high before and after the match amid worries of more violence.
The English fans remained in the stadium an hour after the final whistle, waiting for buses that would take them directly from the stadium to downtown Rome or to the airport.
Liverpool advanced 7-6 on aggregate after winning the first leg 5-2 at home.
Earlier, supporters of Liverpool and Roma met at Rome's City Hall to condemn violence and express solidarity with a Reds fan who was seriously injured in clashes when the teams played in England last week.
During the event, fans held up signs saying "Forza Sean" - "Go Sean" - referring to Liverpool supporter Sean Cox, who remains in a medically-induced coma.
"Football is important, we all love football. I think Rome and Liverpool share that as a passion but what happened last week is hugely over the line. That's not about football," said Gareth Roberts, editor of the Liverpool magazine The Anfield Wrap.