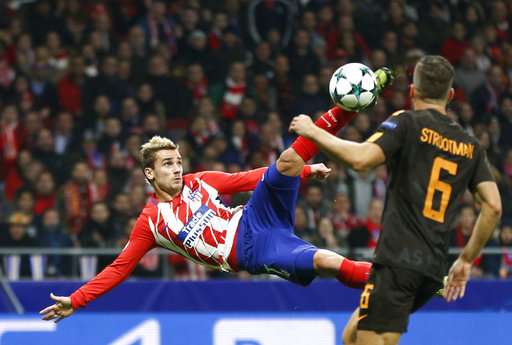 Antoine Griezmann ended his scoreless streak in style on Wednesday, finding the net with a stunning overhead kick to keep alive Atletico Madrid's hopes of advancing in the Champions League. Griezmann, who hadn't scored in eight matches with Atletico, struck his volley perfectly from inside the area after a cross by Angel Correa midway through the second half to lead Atletico to a 2-0 win over Roma, avoiding the team's early elimination.
Substitute Kevin Gameiro added Atletico's second in the 85th minute at the Wanda Metropolitano Stadium, sealing Atletico's first Champions League victory this season.
Atletico has six points in Group C. It trails Roma by two points and is four points behind Chelsea, which earlier Wednesday secured its spot in the last 16 by beating Qarabag 4-0 in Azerbaijan.
"We played with the intensity that is characteristic of our team, and this time we capitalized on our chances," Atletico coach Diego Simeone said. "We had the responsibility to win this match and we did it. Now we have the responsibility to beat Chelsea in London. We have given ourselves a chance to advance."
Atletico must beat Chelsea at Stamford Bridge in the last round on Dec. 5, and hope that Roma fails to win when it hosts last-place Qarabag.
"We will keep trying until the end," Griezmann said. "We knew we needed to win tonight, and now we will see what happens."
Roma could have advanced with a draw at the Metropolitano, where Atletico hadn't won in five straight matches.
"They put in a bit more than us," Roma coach Eusebio Di Francesco said. "We were imprecise, particularly in the first half, where we didn't get that final ball to get us in front of goal. In the second half, we could have done more ... We need to work on our errors, but let's not forget we were up against a side who everybody struggles to play against."
Atletico had cruised through the group stage in the last four seasons, each time advancing as group winners. This time, Simeone's team has struggled to find its stride and was coming off two disappointing draws against Qarabag.
After a lackluster first half, Atletico took control of the match and had several good chances to break the deadlock. Yannick Carrasco and Fernando Torres both came close before Griezmann finally found the net in the 69th.
The France forward struck his remarkable overhead shot after Correa made a run on the left side of the area and just managed to send his cross back toward the middle of the area. Griezmann set himself perfectly at the six-yard line and raised his left foot high in the air to drive the ball to the net.
Griezmann had recently been criticized by some fans after scoring only three goals in 14 games with Atletico in all competitions, a barren streak stretching back to the 2-1 Champions League loss to Chelsea in September.
Griezmann also set up Gameiro's goal with a pass into the area. His former France teammate cleared Roma goalkeeper Alisson before finding the open net.
Atletico had the ball in Roma's net with a shot by Augusto Fernandez just before halftime, but the referee ruled that the midfielder had controlled the ball with his hand before taking the shot.
Roma's best chance came early in the second half when a cross from the right by Radja Nainggolan curled toward the net and struck the near post.
Roma played the final minutes with 10 men as Bruno Peres was sent off for a foul on Atletico defender Filipe Luis, prompting his second yellow card of the game.