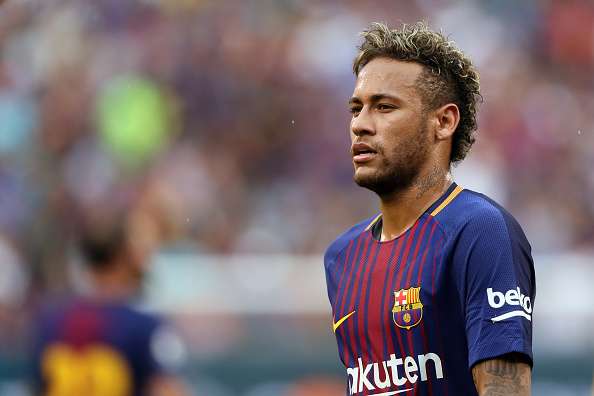 The transfer mill has been on an active roll as clubs make their bids for the best players and playmakers in the world right now. With Monaco being raided and loosing its star players to European giants, Manchester City alone have spent over 200 Million Euros right now and there seems to be no stop. Neymar Jr is top priority right now as the Barcelona winger is discontent at Camp Nou. The winger has made up his mind and is off to a record shattering deal of 220 Million Euros to Paris-Saint Germain next week according to media reports. 
The 25-year old feels that as long as he is under the shadow of Lionel Messi, the winger would not be able to achieve individual success and recognition. Neymar joined Barcelona in 2012 and ever since then he is the only player that will perfectly fit the boots of the Argentine great, Lionel Messi. PSG have made contact with Neymar Jr and father Neymar Sr. and is ready to move away from Barcelona to Ligue 1 giants. 
On the other hand, Brazilian and Liverpool attacker Philippe Coutinho wants a move to Camp Nou but Liverpool have slapped a 133 Million Euros tag on the forward. Barcelona still insists on bringing the Liverpool forward with Neymar ready to leave the club. New manager Ernesto Valverde who recently has come in place of Luis Enrique from Athletic Bilbao is ready to bolster the club with new signings. 
Coutinho has made an incredible impact at Anfield with his touch for goals and assist. The Brazilian winger along with fellow country player Robert Firminho, Mane and added Egypt winger Salah, the Liverpool attack is just what Jurgen Klopp wants. But with Barcelona persisting on purchasing the young talent, Klopp would not have much of an option but to add a 133 Million Euro price tag on the playmaker.
FC Barcelona equipped striker Luis Suarez from Liverpool in 2015 which was their biggest mistake. To add another Liverpool attacker would be the perfect icing on the cake for FC Barcelona. 
Neymar is currently in the Pre-Season squad in the USA as they face their arch-rivals Real Madrid in the Champions Cup on July 30. The Catalans have done all they can to persuade Neymar from leaving the club, but the winger is reluctant to stay. 
Neymar would sure break all records in the transfer market but the legacy that the Brazilian has established with Barcelona will all be diminished once he joins Ligue 1.