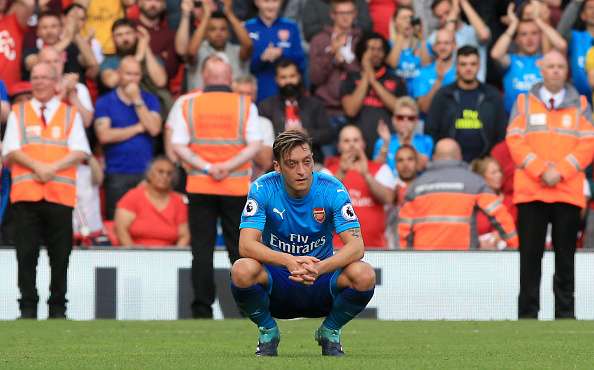 English Premier League giants Arsenal FC are stuck in a debacle again as the beginning of the season may be a portrayal of what the gunners will showcase this year. Manager Arsene Wenger and his players were humiliated this Sunday in the Premier League as the hosts Liverpool routed the visitors 4-0 in a manner that no Arsenal fan would have expected. Last season in the first round of the league, Arsenal lost to Liverpool 4-3. The Gunners managed to reduce the deficit to one goal but this encounter was a rampage from the Merryside's forwards. Roberto Firmino, Sade Mane, Daniel Sturridge and new player Mohamed Salah danced around Arsenal's defence to easily add three points to the table.
Last year seemed like a defining moment for Arsenal as the North London fans wanted the French coach out and out for good. Wenger has been with Arsenal for over 22 years and recently signed a two-year contract with the team. Arsenal managed to clinch the FA Cup last season and bag the Community Sheild and defeated rivals Chelsea in both the finals. Arsenal entered the league with a thrilling 4-3 win over Leicester City. However, Arsenal went back to their old habits when the London team played away to Stoke City and lost 1-0. But a four-goal demolition by Liverpool was not something that even Jurgen Klopp would have expected. 
The Arsenal's defence, midfielders and attackers played a lethargic, uninterested match against Klopp's men as Liverpool amounted to most of the possession while Arsenal had no shot on target throughout the entire 90 minutes. Forward Alexander Lacazette was missing his boots during the match till the Frenchman was substituted by a fellow country mate Olivier Giroud. Alexis Sanchez started for the team but lost possession of the ball most of the time. 
Former Real Madrid midfielder Mesut Ozil posted an apology on Instagram after the match as the German playmaker felt that he was answerable for the loss at Anfield. Ozil has only a year left on his contract and signing a new offer is not what he intends to at the moment, especially when Arsenal are in such a form.
Rebellion Sanchez starred in the first match of the season and made no impact as the Chilean wanted to leave the club with a year left on his contract. Manchester City and PSG were favourites to sign the former Barcelona player but it was Wenger who stepped his foot down.
Arsenal next play AFC Bournemouth at home in the Emirates Stadium on September 9.