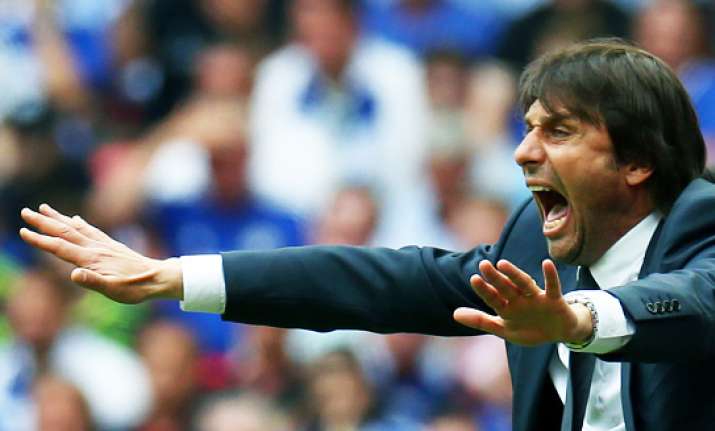 Chelsea are the current Premier League Champions who clinched the title after a year under the Italian genius Antonio Conte on his debut in the English league. Conte led the blues to become the league champions again after the West London club experienced a dreadful season with former manager Jose Morhino. The Portuguese manager led Chelsea to victory in the 2015-2016 season. After securing a place in the Champions League this year and winning the Premier league, all does not seem to work out now for the Italian. 
After a sloppy performance which cost the blues the FA Cup final against Arsenal, it seems like déjà vu again as the transfer window hasn't exactly gone according to Conte's plan this summer. 
With Diego Costa and Nemanja Matic on the verge of departing from the club, the blue's haven't yet secured any major signings for the upcoming season. Former striker Romelu Lukaku snubbed Conte's men to join the Red Devil's squad with the Blue's former manager Jose Morhino. Paul Pogba was one of the major influences to draw the in-form striker to Old Trafford. 
Conte was able to sign German defender Antonio Rudiger from AS Roma. The defender was a part of the German squad that won the World Confederations Cup 2017. Though the German youngster has made a name for himself, Conte is looking for more experienced players.  
Antonio is on the verge of signing in French defensive midfielder Tiemoue Bakayoko from Monaco who is currently in West London for his medicals. But Bakayoko has teased the fans with a hint as he wishes to go back home to Monaco or snub the blues to choose the red side of Manchester. The blues will face a problematic dilemma if they are not able to sign a major signing this year as they could loose Matic and Costa who have played a crucial role in Chelsea's title win this year. 
The forward and the defensive midfielder have been granted permission from Chelsea to miss the pre-season tour in the summer which is an indication that Blue's tailsmen are on their way out. The misery continues as Chelsea sold their prodigal talent Dominic Solanke to Liverpool. 
Chelsea will soon have to create some impact as winger Eden Hazard hasn't yet recovered from his injury much. Conte has made a bid of  65 Million Pound for Dortmund ace Pierre Emrick Aubamayang who is currently on a hot streak at finding the back of the net. 
Chelsea are facing their blues as they seem to be in all sorts of shapes as the transfer window is coming to an end soon.