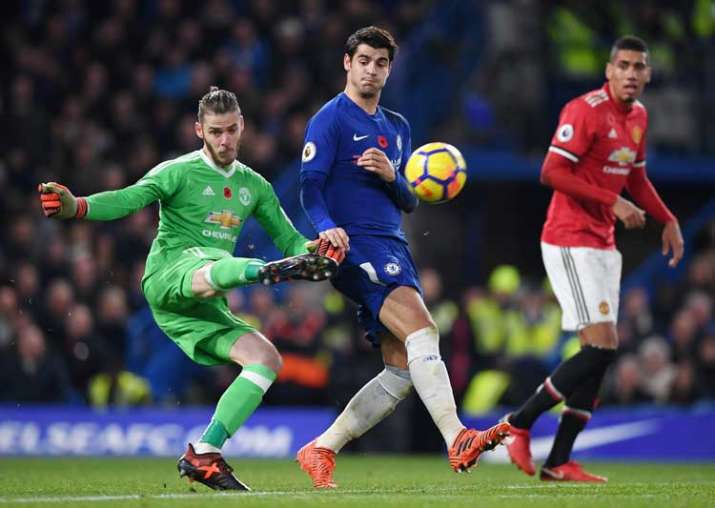 A surefire way for a Chelsea manager to ease any anxieties is the sight of a dejected Jose Mourinho at Stamford Bridge.
Antonio Conte achieved just that on Sunday, handing Mourinho a third successive losing return visit to Chelsea with Manchester United.
Alvaro Morata's second-half header secured the 1-0 Premier League win as Chelsea outplayed United to instantly recover from a debilitating loss at Roma in the Champions League.
The spirited performance moved the fourth-place champions a point behind Mourinho's side, while Manchester City extended its lead over United to eight points by beating Arsenal 3-1.
"We are worried," said Mourinho, who won the Premier League three times across two spells as Chelsea manager. "But there are 18 teams more worried than us because we are second."
Conte, though, is less worried than he was going into a game that saw defender David Luiz ruthlessly dropped and forced to watch from the stands.
"This season we are struggling a bit to find the best solution for this team," Conte said. "Last season we found great balance with the system, 3-4-2-1, but this season we changed many players and we have to find the best solution game by game.
"We showed good balance tonight, we created many chances to score, we could have been more clinical, but it's OK."
OK, because Morata did find the net once to end a six-game scoring drought in all competitions.
The goal was gifted in the 55th minute by the United defense, but it also owed much to Cesar Azpilicueta's vision and precision.
Morata peeled away from defender Eric Bailly and the striker was completely unmarked 12 yard (meters) from goal when he met Azpilicueta's pinpoint cross with a powerful looping header.
"Don't forget this is the first season he is playing regularly," Conte said of the off-season recruit from Real Madrid. "He played a really good game against three physical, strong central defenders. He showed he is strong physically and he has good technique. If I have to find a negative aspect, he could have scored more goals and killed the game."
Morata was only signed by Chelsea because Romelu Lukaku opted to sign for United rather than rejoining the Premier League champions from Everton. But while Lukaku has now gone a seventh game in all competitions without scoring, Morata's goal famine is over.
"I think we lost emotionally for a few minutes after the goal," Mourinho said, "the team was a bit in trouble to be confident again and to try to play again."
Chelsea was transformed from the disorganized team that was picked apart so easily at Roma in a 3-0 loss, making an assertive start against United.
Tiemoue Bakayoko had an early chance to put the hosts in front but missed the target, United goalkeeper David De Gea denied Eden Hazard and Morata lacked power with a strike before halftime.
But Chelsea was getting closer, overrunning United in midfield with stability restored by N'Golo Kante returning from six games on the sidelines with a hamstring injury.
Within two minutes of Hazard being again thwarted by De Gea, United was carved open as Morata scored. But it was an anxious ending for Chelsea, with the three points preserved with a minute to go when Thibaut Courtois produced a close-range save from Marouane Fellaini.
Mourinho, who complained last month that he won't "cry" about injury problems like other managers, in part blamed the loss on the absence of players like Paul Pogba.
"Of course we missed some important players, especially the quality and the physicality of some of them who could not be available," Mourinho said.