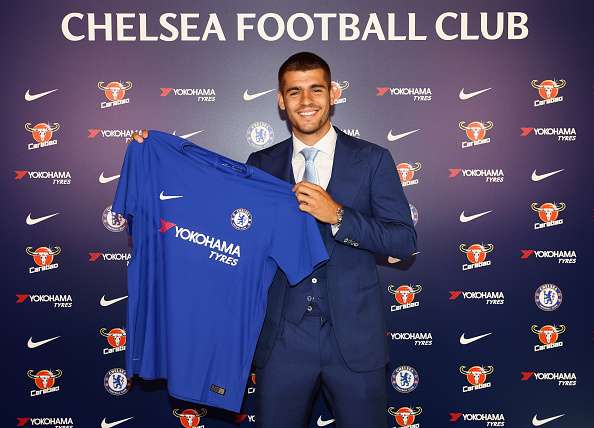 Spanish forward Alvaro Morata has finally joined Chelsea with a club record deal transfer of 58 Million Pounds on a 5-year deal. Alvaro was a target for many clubs including Jose Mourinho's Manchester United and also a return to his former club Juventus. Morata was highly speculated to join the Red Devil's till the bids were rejected from Real Madrid which led Jose to sign Romelu Lukaku for 75 Million pounds. The Belgian snubbed his former club to play at Old Trafford and join his friend Paul Pogba. Morata had been on the Real bench for most of the season which was an indication that the forward would leave the club as he never started a match last season.The forward played 47 matches in which he managed to tap in 22 goals for the club as a substitute. 
Morata won the UEFA Champions League and the La Liga title with Real Madrid last season but with not enough playing time, the player was not content at the club as the 24-year old was determined to make an impact. Morata played for Juventus as well and won the Serie A title twice with the club. 
Alvaro is now the fourth signing for the Premier league champions this season. Antonio Rúdiger from Roma, Timeou Bakayoko from Monaco and Willy Caballero from rivals Manchester City are Conte's other signings for the Blue's this season. 
With Diego Costa no more in the picture, Morata becomes the main striker for Chelsea along with Mitchy Batshuiyi who is speculated to leave the club. Morata is also accompanied with his Spanish team mates Cesc Fabregas and Pedro at Stamford Bridge as the league winners will play in the Champions League this year after missing out on last season. 
Antonio Conte was highly impressed with the 24-year old performances with his former clubs. Chelsea immediately shifted their focus on the Spaniard after Lukaku snubbed the Blue's to join Manchester United. Conte's blues have a lot to look forward to this season and will play Arsenal for the Community Sheild on July 6.