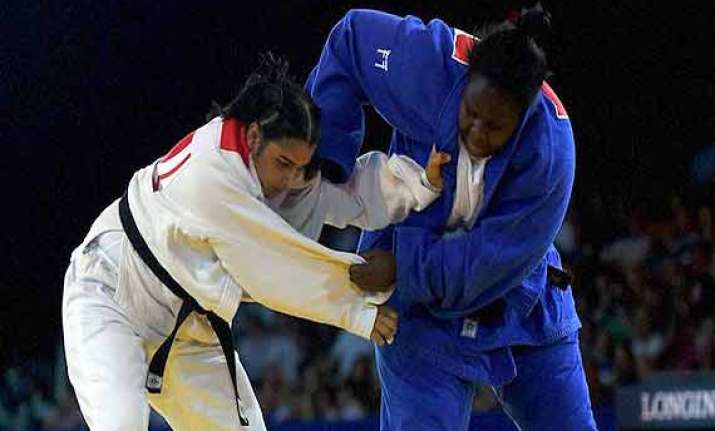 Glasgow:  India's Rajwinder Kaur bagged a bronze in women's ᄚkg judo competition to add to the three medals the country won in the sport at the 20th Commonwealth Games.
Rajwinder defeated Esther Akinyi Ratugi of Kenya in the bronze medal match on penalty points to give cheers to the Indian camp.     
The Kenyan was handed three penalties in the four-minute bout as against none for Rajwinder. Earlier, Rajwinder had lost to J Myers of England in the quarterfinals but won her repechage match against Sophie Vaillancourt of Canada to earn a chance for the bronze medal match.     
With today's bronze, the medal count for India from judo has risen to four, with three  two silver and one bronze having won on Thursday. The Indian judokas has already created history by winning the highest number of medals in any Commonwealth Games.     
Judo made a return in the Commonwealth Games after 2002 Manchester. This is the third time judo has been included in the Games, the first one being in 1990 in Auckland. India had won two medals without a gold in both 1990 and 2002.     
With the bronze from judo, India's medal tally has risen to 16 with five gold, seven silver and four bronze and now occupy fifth spot in the medal table. Earlier in the day, four Indian judokas were in contention for a bronze medal in the higher weight categories on the third and concluding day of the martial art event.     
However, in the men's event, Sahil Pathania (upto 100 kg) lost to Tim Slyfield in the bronze medal contest after being handed two penalties against one to the New Zealander. In women's event, Jina Devi Chongtham (upto 78 kg) too failed to cross the hurdle as she lost to Hortense Atangana of Cameroon after being handed a penalty.     
Parikshit Kumar (+  100 Kg) too could not earn India another medal after losing to Jake Andrewartha on the basis of two wazaari.     
In his quarterfinal bout, Pathania lost to Jason Koster having conceded three shido penalties and 'Ippon'. However quarter-final qualification ensured repechage bouts for Pathania, who knocked out Dominic Dugasse of Seychelles with an 'Ippon' within a minute.     
Earlier, Parikshit was 'Ippon' ed in the quarterfinal by Kiwi Sam Rosser but won his repechage bout against Gavin McNeill of New Zealand to set up a bronze medal fight with Jake Andrewartha of Australia.