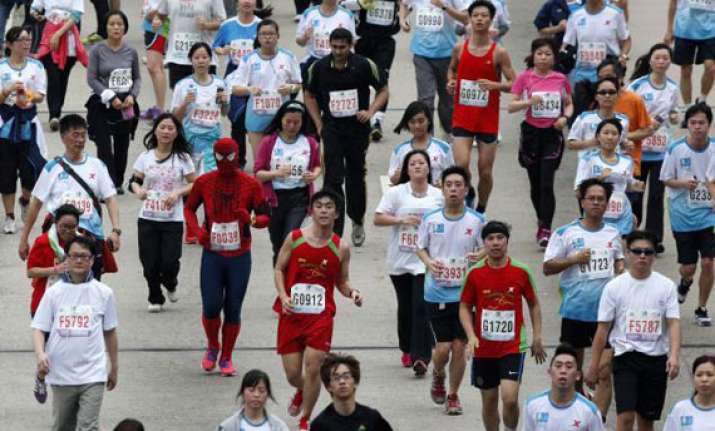 Hong Kong, Feb 24: Julius Maisei of Kenya took his first Hong Kong Marathon title on Sunday while the women's crown went to defender Misiker Demissie of Ethiopia.
Maisei finished in two hours, 14 minutes and 18 seconds to take his first title in Hong Kong in the third attempt, including the second place finish in last year's edition, Xinhua reports.
"It is a great honour for me to win my first Hong Kong Marathon champion," said Maisei. "The wind is a little bit strong which makes the match more difficult."
Maisei's compatriot James Kariuki Mbugua improved from last year's third place to take the silver medal clocking two hours, 14 minutes and 28 seconds, while the bronze medal went to Ethiopia's Deribe Robi, who finished nine seconds slower.
Ethiopian runners dominated the women's event by sweeping the podium. Demissie finished in two hours, 30 minutes and 49 seconds to defend her champion title. Makda Harun and Shitaye Gemechu took the second and third place.
Bat-Ochir Ser-Od of Mongolia became the newly-crowned Asian champion by winning the 14th Asian Marathon Championships in two hours, 17 minutes and 56 seconds, while the women's title went to DPR Korean runner Kim Kum-Ok, who was also gold medallist in 2006 and 2008.