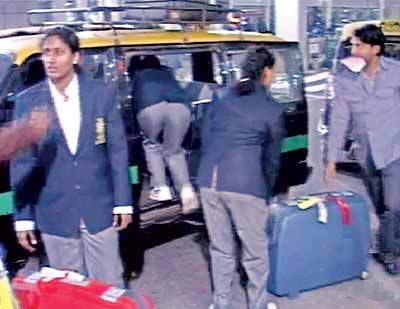 New Delhi, Nov 30:  And we still wonder why India fails to produce world-class athletes, writes MidDay.  When members of the Indian contingent at the Guangzhou Asian Games reached the Indira Gandhi International Airport at 9 pm on Sunday, they had an unpleasant surprise waiting for them.
Members of the gold medal winning women's kabaddi team.
While they did receive a rousing reception, it seems the Indian Olympic Association (IOA) hadn't made arrangements to give them a ride home. Consequently the gold medal winning women's kabbadi team, gold medallist in the women's 400m hurdles Ashwini Akunji and relay champion Manjeet Kaur were all forced to make their own arrangements after waiting in vain for several hours.
Although none of the players openly criticised the sports authorities, but the frustration was visible on their faces. Finally players hired taxis from the airport to reach home. Only the boxing team had a car waiting for them. None of the sports officials were available for comments. The last athlete boarded a taxi at around 1 am.