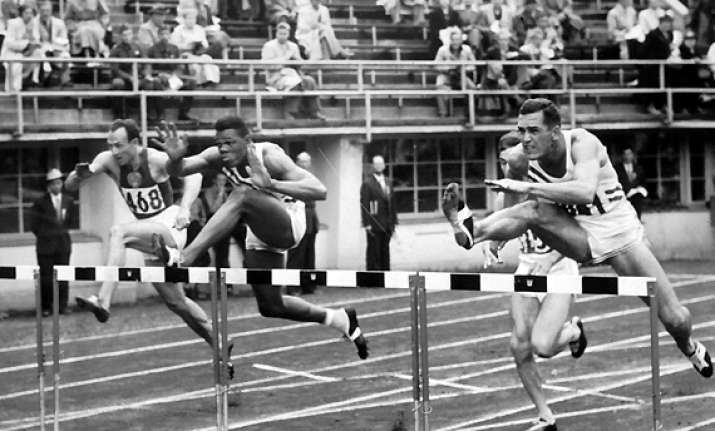 Gainesville, Georgia, Nov 5: Milt Campbell, who became the first African-American to win the Olympic decathlon in 1956 and went on to play pro football and become a motivational speaker, has died, his family said. He was 78.
Linda Rusch, Campbell's partner of 13 years, said Campbell died Friday at his home in Gainesville, about 55 miles (90 kilometers) northwest of Atlanta. She said he had been fighting prostate cancer for a decade.
"He was extremely disciplined," Rusch told AP on Saturday.
"He had huge passion. For you to win the gold you have to be so self-motivated and so self-disciplined. And you have to have a very strong mind."
"He literally had to train himself to have this incredible mind, to be such a positive thinker," she added.
"He carried that way of life throughout his whole entire being."
A native of Plainfield, New Jersey, Campbell was a rising high school senior track star when he won the silver medal in the decathlon at the 1952 Olympics in Helsinki, finishing second to Bob Mathias.
The Americans swept the decathlon that year. Four years later, Campbell won gold at the Olympic Games in Melbourne, Australia.
"World record holder Rafer Johnson was hampered by injury, but even in full health he probably couldn't have beaten Milt Campbell in Melbourne," according to The Complete Book of the Summer Olympics by David Wallechinsky.
Campbell had hoped to qualify for the Olympic team as a hurdler, but he finished fourth during tryouts.
"I was stunned," Campbell said in the book. "But then God seemed to reach into my heart and tell me he didn't want me to compete in the hurdles, but in the decathlon."
The 6-foot-3 inch, 98.4-kg Campbell, who attended Indiana University, was drafted in 1957 by the Cleveland Browns of the National Football League, where he played one season in the same backfield as Jim Brown. Campbell then played for various teams in the Canadian Football League before ending his football career in 1964.
Campbell was inducted into the National Track and Field Hall of Fame in 1999. In 2000, the New Jersey Sportswriters Association named Campbell its New Jersey Athlete of the Century.
In June, he was inducted into the New Jersey Hall of Fame along with nine others, including actor Michael Douglas, author Joyce Carol Oates and the late New York Giants owner Wellington Mara.
Linda Rusch said Campbell dreamed of being a great athlete as a young boy competing with his older brother, Tom.