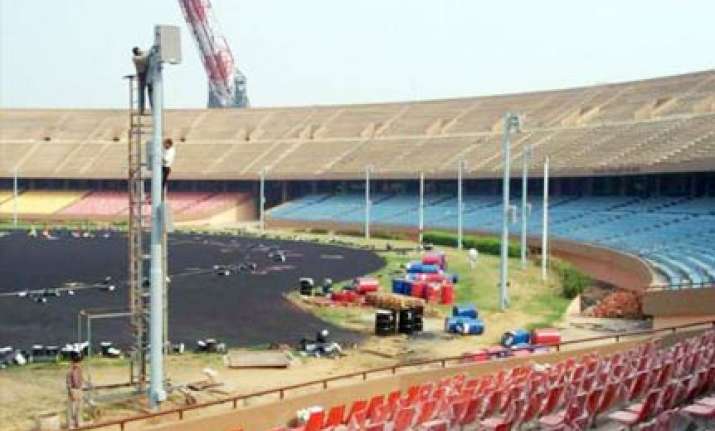 The Suresh Kalmadi-led Commonwealth Games Organising Committee (OC) may have some more explaining to do. A scrutiny of the final inventory and price list of several "overlays" — movable fixtures and fittings for venues and stadia — hired from four foreign firms reveals major anomalies, reports The Indian Express.
The total cost of hiring these "overlays" is over Rs 600 crore and the inventory list shows several cases where there is a huge price differential for the same item.
The overlays include first-aid kits, water dispensers, lecterns, office  stationery, staircases, bookshelves, curtains, doormats, barricade golf carts, fire extinguishers and emergency lights.
Consider:
* After a bidding process, the OC selected four foreign firms for their mega turnkey deal and, as it now transpires, while one vendor, Nussli of Switzerland, for instance, is charging Rs 187 for renting out each "liquid soap dispenser," another firm, British consortium ESAJV, is charging Rs 9,379 for the same item. While the Hong Kong-based Pico Deepali Overlays Consortium is charging the OC Rs 2 for a single disposable glass, the ESAJV consortium is charging India Rs 37 per glass.
* All the hired items were split into seven operational "clusters" covering all the 60 venues of the Games. Each cluster is made up of specific stadia and venues.
* For instance, a 82.5 KVA generator set is hired by OC for Rs 4.65 lakh from Pico Deepali. A generator of the same specifications was hired from Nussli for Rs 14.58 lakh.
* There is a difference of almost Rs 60 lakh for hiring a single public display system of identical size and pitch between Pico Deepali and ESAJV with several such systems  being hired for a single games cluster (see chart).
Asked about these discrepancies, senior OC members said it was now standard international practice for overlays to be rented per cluster for large sporting events and that the contracts were awarded to the four foreign vendors since their bids were "overall" the lowest.
They said that in such transactions, it was understood that a large quantity of the overlays would be refurbished or brought in second-hand, while other items like furniture, carpets, stationery and toiletries would obviously be new.
Said A K Saxena, OC's Joint Director General (overlays and procurement), told The Indian Express: "There are a few internationally reputed firms who deal with overlays and we have no option but to negotiate on the basis of entire clusters. There may be a price difference between identical items but we have only looked at the lowest bidder for entire clusters and there may also be difference of quality in the items."
Other OC officials admit it took them almost two years to resolve the muddle over overlay rentals since the agencies constructing the venues showed a reluctance to furbish the interiors themselves. Lalit Bhanot, OC's Secretary General, said that they had — at an earlier stage — requested for experts from the Central Vigilance Commission and the Delhi Metro Rail  Corporation  to be part of the hire procedure.
"When no expert joined us, we did the procurement ourselves and picked companies  which were not only the lowest bidders but had also done events like the Beijing Olympics and the FIFA World Cup," he said.
He admitted that after the Games, the empty venues would be handed back by the OC to the administrative bodies — to be refurbished.