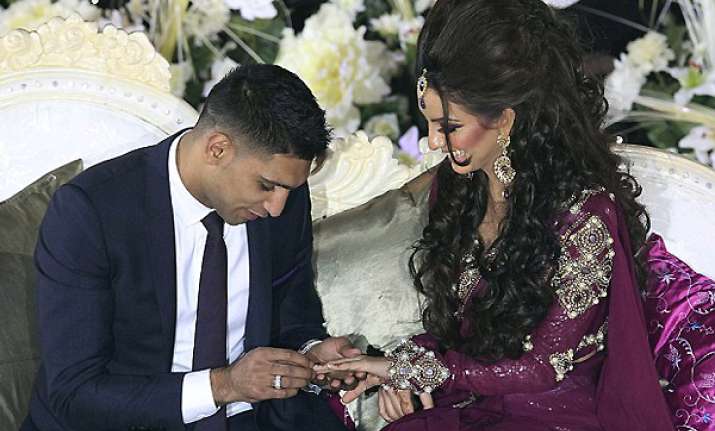 London, Jan 31: Pak origin British boxer Amir Khan was engaged to Faryal at a lavish engagement party at Bolton Wanderers' Reebok Stadium on Monday night.

Khan, 25, and 20-year-old Faryal Makhdoom revealed their plans to marry earlier this month, and made it official this weekend by exchanging rings in front of 1,000 of their nearest and dearest at a lavish engagement party.
The couple celebrated with a £150,000 bash at the Bolton Wanderers' Reebok Stadium, reports Daily Mail.

Friends including Ricky Hatton watched as Amir presented his wife-to-be with a £100,000 platinum ring encrusted with three staggering diamonds.

In return, beautiful Faryal gave her beau with an equally bling platinum ring.

After the party Amir tweeted: 'Amazing day, I'm so tired and my fiance faryal looked so beautiful and was very patient, everyone loved it, I love my ring faryal got me x' (sic)

Last night the happy couple posed for pictures as they were showered with rose petals after the ceremonial exchanging of rings.

Faryal wore a deep red sari and elaborate jewels to complement her stunning features.

During a visit to her family in New York earlier this month, Amir gushed over his love: 'A lot of girls back home have said to me, "Your girl is beautiful" - and that's great because people can be so jealous.'

The student and her family jetted into the UK for the engagement celebrations and Faryal plans to move to Bolton following their wedding.


But she has had to work on understanding her husband-to-be's thick accent.

'I was used to London accents and thought that's how everyone spoke in Britain,' she told the Sun last week.


'But when Amir opened his mouth it was completely different.

'It was like he was speaking in a foreign tongue — so I just used to nod, agree with whatever he was talking about and say, 'Yeah'.


'He'd say things like "daft" and "innit" and I had no idea what they meant. He'd say, "Don't be daft!" - and I'd be wondering what daft was supposed to be!'

Amir shouldn't expect to see her beloved cheering ringside at any of his future matches.


Faryal says she 'never' wants to see her husband-to-be fight, and while he was losing to Lamont Peterson in December, she was back in the hotel room 'praying with his mother.'