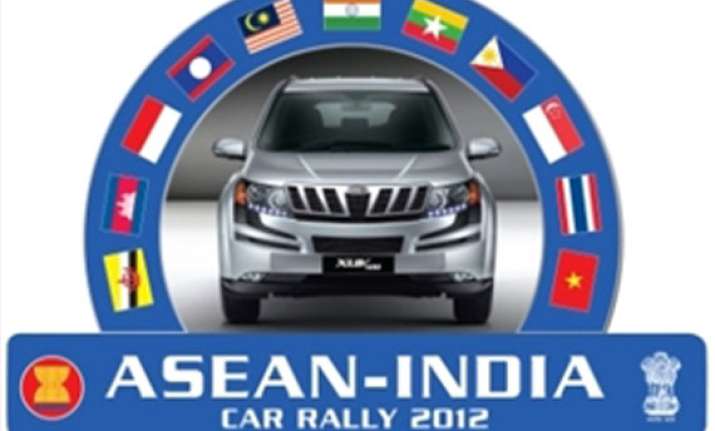 New Delhi, Nov 26:  The Asean-India car rally kicked off Monday from Yogyakarta in Indonesia, marking the close links between India and the 10-nation grouping.
The rally will pass through eight Asean countries over 22 days, covering a distance of 8,000 km, before entering India, Dec 17 at Guwahati. It will see 124 participants from 11 nationalities travelling together in a piloted convoy.
The rally is organised by India's ministry of external affairs, and the Confederation of Indian Industry (CII).
"Asean has emerged as one of the most important trading partners of India accounting for bilateral trade of $79 billion (10 per cent of India's total trade) in 2011-12, crossing the target of $70 billion by 2012 set in 2009," said a CII statement.
"Asean total trade was of the order $1.5 trillion in 2010, including intra-Asean trade. exports stood at $810.5 billion while imports were $726.4 billion… India stood at ninth position in the top 10 trading partners," said the statement.
The car rally marks the 20th commemorative year of the Asean-India relations and 10th year of their summit level engagement.
It will be ceremonially flagged down in Delhi on Dec 2 by Prime Minister Manmohan Singh in the presence of 10 Asean heads of state. "The intense involvement of India in the rally demonstrates the importance India has assigned to the 'Look East Policy' and synergies and complementarities that it shares with the Asean states," the statement said.
India became a full dialogue partner of Asean in 1995 and has been holding summit level meetings since 2002 on an annual basis. In 2009, India signed a Free Trade Agreement (FTA) on goods with the Asean and is hoping to ink a FTA on services and investments soon.
The Asean countries total trade in 2010 stood at $1.5 trillion including intra-Asean trade. Exports stood at $810.5 billion while imports were $726.4 billion. About a quarter of the aggregate trade is within the region.
"Indian industry considers India-ASEAN partnership as a big opportunity to accelerate economic integration of the region, which would be beneficial for prosperity, peace and stability in the region," the statement said.
Along with the car rally, business marker events will be organised in countries en route to connect with the industry and the common man. The events will focus on sectors like manufacturing, mining, IT &ITeS, education, healthcare, agri and food processing, border trade, investment and financing, infrastructure and development, air and sea connectivity and people to people contacts.
Business events are being held in Singapore, Kuala Lumpur, Bangkok, Ho Chi Minh City, Phnom Penh and Mandalay, the statement said.