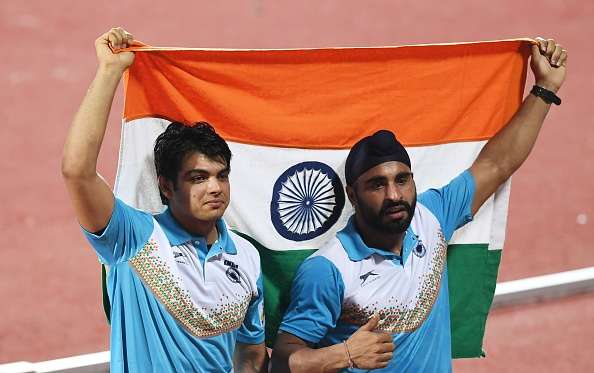 A final qualification here and a personal best there -- this best summed up India's dismal show at the just-concluded World Athletics Championship, in which the country was once again relegated to an also-ran. 
A final round appearance by javelin thrower Davinder Singh Kang and a personal best effort by 5000m runner Govindan Lakshmanan were the only noteworthy performances from the Indian contingent.
Nirmala Sheoran produced a decent show to reach the semifinals in women's 200m but all the remaining in the 25- member squad came up with forgettable performances in the August 4-13 showpiece event, second only to the Olympic Games. 
The biggest disappointment of all was young javelin thrower Neeraj Chopra who entered into the championships with hopes of a top-5 or a top-6 finish. 
The 19-year-old world junior record holder had produced three 85m-plus throws this season and had a personal best of 86.48m coming here. He had also taken part in two elite Diamond League Meetings. 
Yet he fell woefully short on the big stage and nerves got the better of the youngster. He failed to throw the automatic qualification mark of 83m required to progress to the final round of the championships. 
Neeraj, who carried the hopes of the country, later admitted to some technical flaws in his game and he will need to rectify them with the new coach -- former javelin throw world record holder Uwe Hohn of Germany -- who is set to join the national camp next month. 
Surprisingly, Kang surprised one and all by becoming the first Indian to qualify for the final round in this event. Kang threw 84.22m in his third and final attempt in the qualification round. 
The 28-year-old Punjab thrower's participation in the World Championships was earlier in doubt after he tested positive for marijuana in May. 
But he was cleared as the prohibited substance was a specified substance under the WADA Code which did not attract automatic suspension. 
Kang, however, came up short in the final round and his best throw stood at 80.02m. He finished 12th in a 13-man field, which he later attributed to the injury he was carrying into the championships since May. 
"I tried my best but the pain due to the injury on my right shoulder was too much for me to bear and because of that I could not do well. I did not want to give excuses but I would have done better if not for the injury. I am disappointed I have let the country down," Kang had said after his event. 
Lakshmanan did well by clocking his personal best of 3:35.69 seconds in men's 5000m race though he finished 15th in the qualification round. 
Nirmala could reach the semifinals in women's 400m but finished 22nd overall with a below-par time of 53.07 seconds. All the others Indians flopped in their respective events. 
Dutee Chand (women's 100m race), Muhammed Anas Yahiya (men's 400m) and Siddhant Thingalaya (men's 110m hurdles) crashed out in the first round heats. 
The women's 4x400m relay team was disqualified for lane infringement in the first round heats while their male counterparts finished 10th overall to be eliminated. 
In men's 20km race walk event, K T Irfan finished 23rd while Devender Singh (1:25:47) and K Ganapathy (1:28:32) brought up the rear positions of 50th and 54th respectively. In the women's 20km race walk event, national record holder Khushbir Kaur finished 42nd. 
In field events, Annu Rani failed to make it to the final round in women's javelin throw, finishing 20th overall with a best throw of 59.93m. 
Heptathlete Swapna Barman finished a lowly 26th while T Gopi and Monika Athare ended at 28th and 64th in men's and women's marathon respectively. 
India have taken part in all editions of World Championships since the first one in 1983, but except for Anju Bobby George's long jump bronze in the 2003 edition in Paris, the country has not won a medal. 
So for India, a final round entry has been an achievement in this global event. 
In the previous 2015 edition in Beijing, a 16-member Indian team had done better with three final round appearances by Inderjeet Singh (men's shot put), Vikas Gowda (men's discus Thor) and Lalita Babar (women's 3000m steeplechase). 
O P Jaisha had broken the national record in women's marathon. None of them were a part of the Indian team this time.