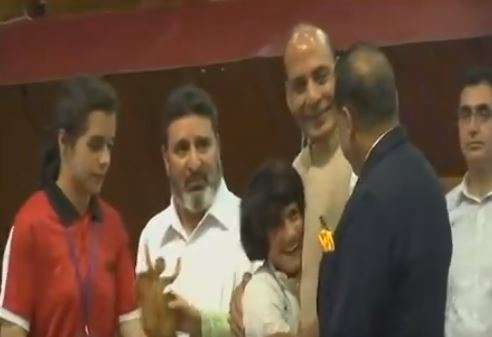 Tajamul Islam, the Kashmiri girl who won the 2016 World Kickboxing Championship, was on Thursday felicitated by Union Home Minister Rajnath Singh at the Jammu and Kashmir Sports Conclave held in Srinagar in presence of state Chief Minister Mehbooba Mufti.
Tajamul, who won national recognition when she bagged the gold medal in sub-junior category at 2015 National Kickboxing Championship, grabbed the attention when she hugged the Union minister and later even requested for a selfie.
Rajnath Singh, along with Mufti, duly accepted Tajamul's request and the entire sequence of events was lauded by the crowd.
#WATCH Kashmiri girl Tajamul Islam, who won the 2016 World Kickboxing Championship hugs Union Minister Rajnath Singh, also takes a selfie with him and J&K CM Mehbooba Mufti, at the J&K Sports Conclave in #Srinagar pic.twitter.com/qWZKOV4tci

— ANI (@ANI) June 7, 2018
More than 3,000 sportsmen, students and enthusiasts from the three regions of Jammu, Kashmir and Ladakh participated in the sports conclave.
Tajamul hails from Tarkpora village of Bandipora, 65kms from Srinagar. In fact, kickboxing is not even her forte. She excels in wushu and is also doing well in taekwondo.
Meanwhile, Rajnath Singh, who is on a two-day visit to the state, urged the youth of Jammu and Kashmir to acquire education and participate in sports to change their own fate, saying many of them have been "lost in the dark for many years" in the state.
The Minister said youth and the sporting talents of the state should take the benefit of the opportunity being provided to them by the Centre and Jammu and Kashmir government.
Rajnath Singh also felicitated prominent sports personalities like Parvez Rasool, Manzoor Ahmad, Mehraj Ud Din Wadoo, Palak Kour, Balveen Kaur, Surya Bhanu and members of Real Kashmir Football Club at the sports conclave organised by Jammu and Kashmir Sports Council in Srinagar.