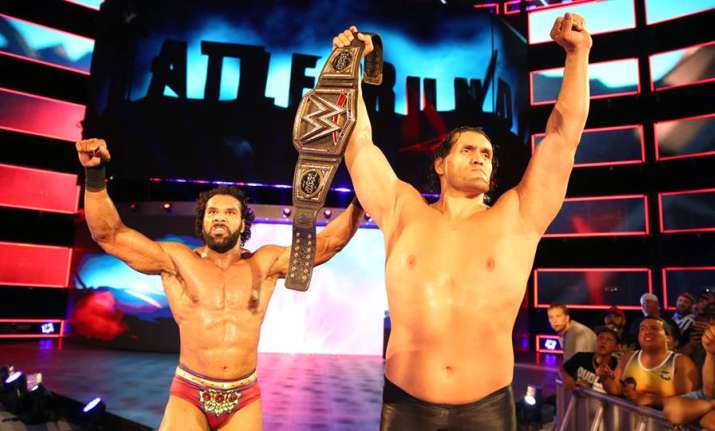 In a brutal match at WWE Smackdown's  Battleground, the Main Event was lit for the night as reigning WWE World Heavyweight Champion Jinder Mahal challenged the No.1 contender, the Apex predator Randy Orton in a Punjabi Prison match at Battleground. 
Champion Jinder faced Orton in a highly contested match as the only way to win the match was by escaping the Punjabi Prison which consisted of 3 barricades. After climbing all three Barricades, the first person to step out of the prison would be declared the winner. 
Randy had Jinder right where he wanted as his one RKO seemed effective. With the Singh brothers who were not supposed to interfere were as well hammered by the Viper with a steel chair. With the Singh brothers out of the way, Orton was nearly there when the 7 foot tall 'The Great Khali' made an entrance to the WWE after 3 years. Orton was on the last barricade till Khali blocked Randy's way and had to retreat. Khali helped Jinder escape the cage as he choked Randy to sleep inside the cell. 
The Great Khali has not been seen in the WWE ring after his contract expired in 2014. With his return to WWE, Khali has pledged his   Alliance to the WWE Champion Jinder Mahal and the Singh brothers. 
Khali was also a former WWE World Heavy Weight Champion when he defeated the Undertaker in a match on smackdown in 2007. It was his debut year and then faced the wrestlers such as Batista, Rey Mysterio, John Cena and Dolph Ziggler. 
Dalip Singh Rana, who is better known by his ring name, 'The Great Khali' was described as the Eight Tallest professional wrestlers in history with the greats such as Andre The Giant and The Big Show. Khali has also made many appearances in Hollywood and Bollywood movies.