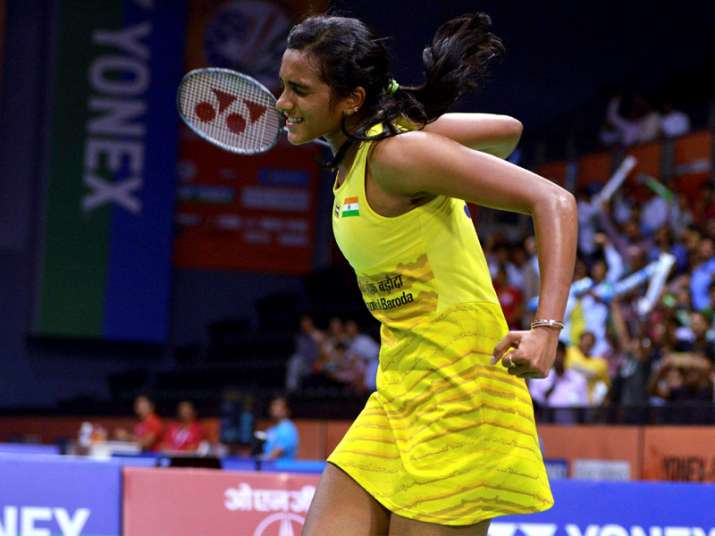 Olympic silver medallist and third seed PV Sindhu today defeated second seed Seoul shuttler Sung Ji-hyun 21-18, 14-21, 21-14 to reach her maiden final of the India Open World Super series badminton championship.
The Indian third seed got the better of Sung 21-18, 14-21, 21-14 in a women's singles semi-final which lasted an hour and 16 minutes at the Siri Fort Sports Complex.
The final on Sunday will be a repeat of 2016 Rio Olympic final which saw Marin earning the gold medal. The world No.3 registered a facile 21-16, 21-14 win over Japanese fourth seed Akane Yamaguchi in 40 minutes.
As compared to Sindhu, Marin struggled less during her Saturday's game. And for the Indian it will be important to recover the energy she spent at the gruelling battle against Sung.
The 25-year-old South Korean was inconsistent throughout the match. But she ensured that Sindhu put her best.
In the first game, Sung got off to a fine start, racing to a 6-3 lead. Then Sindhu equalised at the seven-point mark, aided by several unforced errors from the South Korean, who struggled with net play throughout the first game.
Sindhu then took the lead, pressurising Sung to play the catch up game. Sung conceded the lead owing to couple of shots that went wide, allowing Sindhu then to build up a healthy 15-11 lead.
The closest Sung came close to erase the deficit was when one cross-court smash caught Sindhu off-guard giving the scoreline a 17-16 in favour of the Indian. However, poor net play and Sindhu's powerful smashes to the left of Sung again allowed the home star to win the first game 21-18.
The second game saw Sindhu continuing her momentum as she zoomed to a 5-2 lead. But Sung stepped up her game and fought her way back with the help of attacking brand of badminton. 
She gained an 8-6 lead with the help of six consecutive points and the momentum swung in favour of her. Her cross-court smashes fell in right places and Sindhu felt the pressure. And from thereon, even though Sindhu did her best to close the gap, Sung never looked back. 
Sindhu tried to force her way back, and at a point of time 13-16 scoreline seemed to make a good contest. But Sung's improved net play and array of lethal attacking strokes gave her a 21-14 win.
In the third game, Sindhu was back on her rhythm and a 5-1 lead seemed a perfect start to the deciding game. And at the midway break, the Indian held an 11-4 lead.
After the two-minute break, Sung went on an attacking spree, raising hopes of a fierce comeback as she reduced the deficit to two at 10-12. Sindhu, feeling the pressure, however, didn't stop playing her aggressive game. Even though she made some unforced errors, the momentum swung in her favour. She then ran away with a 21-14 win.
With this win, double World Championship bronze medallist Sindhu took a 7-4 lead in career meetings against Sung, the 2015 World Championship bronze medallist.
Now, in her maiden India Open final, Sindhu will be up against Marin, who leads 5-4 in head-to-head record against the Indian.
(With inputs from IANS)