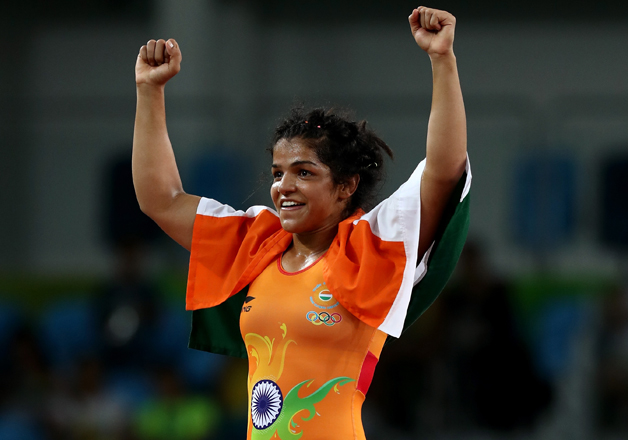 A diminutive 23-year-old girl from Mokhra village near Rohtak in Haryana, Sakshi Malik, touched glory at the Rio Olympics on Wednesday by reaching out and grabbing the only medal India has been able to win at the 31st Olympiad.
Malik, also the first Indian wrestler woman to bag an Olympic medal, clinched the Bronze in the Women's Freestyle 58kg category with a spirited comeback victory over Aisuluu Tynybekova of Kyrgyzstan.
With this win, Malik is set to become richer by at least Rs 2.5 crore as plenty of cash rewards are set to come her away. Here's how:
1. Haryana government has promised cash award of Rs 6 crore for winning Gold medal, Rs 4 crore for Silver medal and Rs 2.5 crore for Bronze medal. Also, each participant will get Rs 15 lakh in cash as reward money.
2. Indian Railways had promised cash reward of Rs 1 crore for Gold medallist, Rs 75 lakh for Silver medallist and Rs 50 lakh for Bronze medallist. Malik is employed with Railways.
3. To boost the morale of the sportspersons and keep them focused, the Indian Olympic Association (IOA), for the first time, has announced a cash reward for the medal winners at the Rio Olympic Games. IOA has promised to give Rs 50 lakh for a Gold medal, Rs 30 lakh for Silver and Rs 20 lakh for Bronze.
4. Bollywood actor and the goodwill ambassador of the Indian contingent for the Rio 2016 Olympics, Salman Khan has also promised a cheque of Rs 1,01,000 for the athletes.
5. JSW Group has announced Rs 15 lakh for Bronze medallist.