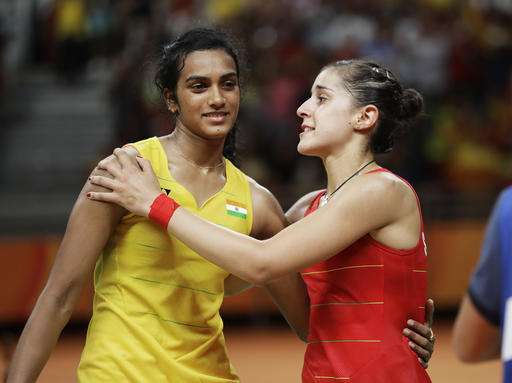 Carolina Marin, badminton gold medallist at Rio 2016, has said that Indian shuttler PV Sindhu wanted her to lose focus in the finals by indulging in some mind games.
Carolina pointed out that she wanted to change the shuttle to keep it new and quick but Sindhu opposed it deliberately because she wanted her to lose the focus.
"She didn't want to change the shuttle because she wanted me to lose focus. It was a little bit slow and sometimes you have to control everything on court. However, I was prepared because I knew it would happen. I didn't get really annoyed. It's all part of the game," Carolina Marin said after the finals.
In the badminton finals at Rio 2016, the Spanish shuttler Carolina Marin defeated Indian shuttler PV Sindhu by 19-21, 21-12 and 21-15.
PV Sindhu won the first game 21-16. However, Marin made a strong comeback and won the next two games 21-12 and 21-15 becoming the first European shuttler to win gold in the Olympics.
"I'm a little Spaniard that broke the Asian world. My dream has come true. I just had to believe in myself. I have the best team behind me, they helped me a lot and were amazing," Marin said after the match.
PV Sindhu also became the first Indian woman ever to win Olympic Silver in badminton.