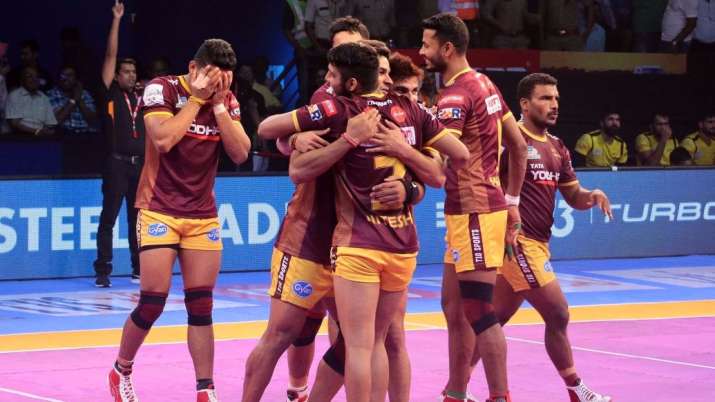 UP Yoddha held their nerve to edge out Telugu Titans 25-23 in a thrilling match of the fifth Pro Kabaddi League here today. 
Nitin Tomar scored crucial points for his team in the last two minutes where as Titans were let down by their raiders' performance. 
Rahul Chaudhari scored his first raid point of the night in the second minute as Telugu Titans led 2-1. Surender Singh scored two points in the fourth minute to give UP Yoddha 3-2 lead. It was a closely fought encounter in the first 10 minutes as the match was tied 5-5. 
Tomar made his first successful raid to help UP Yoddha lead 7-5 after 12 minutes. Telugu Titans kept breathing down the neck and trailed 8-9 in the 15th minute. 
A slew of empty raids followed in the next couple of minutes as Telugu Titans led 10-9 after 17 minutes and entered the break holding a slender 12-10 lead. 
UP Yoddha began the second half strongly, scoring five points in four minutes to lead 15-13 after 24 minutes. Telugu Titans raiders were having a wretched game as they could score just four points in 27 minutes. 
Rahul Chaudhari scored with a raid in the 30th minute as Titans trailed 16-18. Tomar then came up with a successful raid in the 33rd minute to give a 19-17 lead to UP Yoddha. 
Chaudhari scored another raid point in the 35th minute as Titans levelled the game at 20-20. However, Tomar scored two points in the last minute as UP Yoddha opened up a 24-22 lead, before eventually winning the game 25-23.