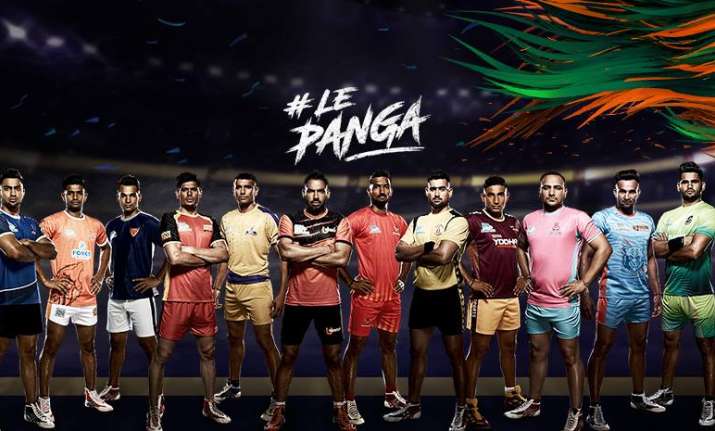 In Match 4 of the Pro Kabaddi League 2017, Patna Pirates defeated Telugu Titans in their own backyard by 35-29. The Pirates were falling behind as Telugu Titans raided and defended well right from the start. But Patna ensured the opposition that why they are Two time Pro Kabaddi League champions as they had an impressive comeback and won the game by Six points. Pardeep Narwal was awarded with the Perfect Raider.
HIGHLIGHTS, PRO KABADDI LEAGUE 2017: TELUGU TITANS vs PATNA PIRATES
Perfect Raider is presented to Patna Pirate's Pardeep Narwal.
Zyaada ka Fayda Player is presented to Telugu Titan's Vishal Bhardwaj.
Sahi Hai Player is presented to Telugu Titans Rahul Chaudhari.
22.10 IST: Patna Pirates win their first match after defeating Telugu Titans in their backyard. 35-29.
22.09 IST: Rahul gets taken down again form Patna's defense and send the captain to the bench. 28-35
22.08 IST: Telugu get a point on their raid. 28-33.
22.07 IST: Rahul gets taken down again as Telugu Titans fall behind.  26-33
22.05 IST: Patna get a bonus point as they lead. 26-32
22.03 IST: Narwal performs an ALL-OUT as he gets a two point raid. Patna lead. 26-31.
22.00 IST: Narwal gets a super raid as he just reaches the line. Patna get 3 points to lead. 25-27 
21.58 IST: Rahul gets taken down again as he is just one raid away from 500 raids. Point to Patna. 25-23
21.57 IST: Vishal Bhardwaj stops Patna's raider scorpion kick to claim a point. 25-22 
21.55 IST: Telugu Titans claim two points on their raid to lead. 24-21.
21.53 IST: Patna gets a point on sending a defender out of the pitch. Scores level. 21-21
21.49 IST: Patna gets two points on their raid which is successful. 21-20
21.48 IST: Vikas form Telugu Titans get taken down to give Patna Pirates a point. 21-18
21.47 IST: Rohit Rana from Telugu Titans gets a warning. 21-17
21.46 IST: Telugu's defence sends Patna's raider out of the field as they tackle hard. 21-17
21.45 IST: Rahul gets 3 points for Telugu Titans as they lead. 19-16
21.43 IST: A technical point issued to Telugu Titans on a case of shirt pulling from Patna Pirates. 16-15
21.42 IST: Do or Die Raid for Patna but Telugu Titans close down to claim a point. Score's equal. 15-15
21.41 IST: Rakesh Kumar gets a warning. 14-15
21.36 IST: Patna bring back Telugu' raider on their super tackle to give Patna Pirates the lead. 14-15
21.35 IST: Telegu lead on their impressive defensive work. 14-13
21.35 IST: Vikas gets a point on his raid for Telugu Titans. 13-13
21.33 IST: Patna denies Rahul another raid as they claim a point. Scores level. 12-12
21.32 IST: Rahul picks a point on his raid to give Telugu Titans a lead. 12-10.
21.31 IST: Jaideep lunges forward to claim a point on his raid for Telugu Titans. 11-9
21.30 IST: Patna Pirates claims a point on raiding. 10-9
21.28 IST: Rahul Chaudhari performs a great raid for Telugu Titans to claim 2 points for his team. 9-7
21.27 IST: Do or Die from Patna but Vishal from Telugu Titans does not allow that to happen. 8-7
21.25 IST: Patna tackle Telugu's raider to get a point and lead. 6-7
21.24 IST: Patna Pirates level the score with their defending. 6-6.
21.24 IST: Rahul Chaudhari from Telugu Titans raids two points.6-5
21.23 IST: Telugu Titans get 2 points on a Do or Die raid. 4-3
21.22 IST: Patna get a point on a raid. 2-3
21.20 IST:  Telugu defend well to block Patna's raider. 2-2
21.18 IST: Patna pounced on Telugu' s raider as they lead. 0-2
21.16 IST: Monu Goyal from Patna gets a point on his raid. 0-1
21.14 IST: Both team captains are brought in for the toss. Patna Pirates win the toss and start the match defending.
21.12 IST: Home side Telugu Titans lead by Rahul Chaudhari gets a standing ovation as they make their way in. 
21.11 IST: Two-time champions Patna Pirates make their way in the arena.
What happens when @Telugu_Titans and @PatnaPirates clash in #VivoProKabaddi? They set the mat on fire! Watch it LIVE on Star Sports. pic.twitter.com/LXAZO7hd8k

— ProKabaddi (@ProKabaddi) July 29, 2017