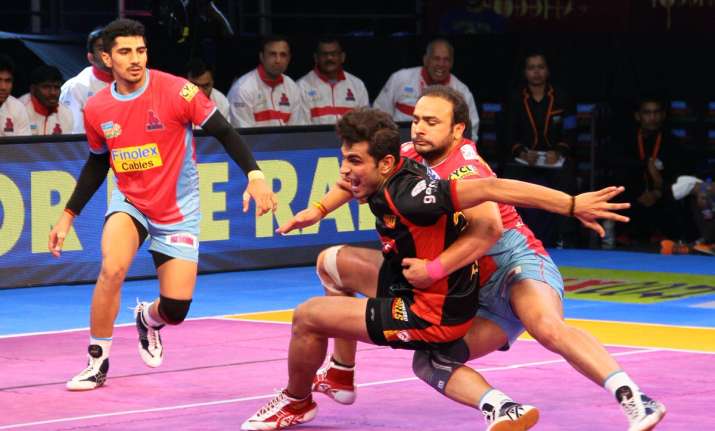 Jaipur Pink Panthers pipped Bengaluru Bulls 30-28 in a thrilling tie of the Pro Kabaddi League Season 5 of the inter-zone challenge week at the Babu Banarasi Das Indoor Stadium on Friday. Jaipur rode on terrific raiding performance from Jasvir Singh (10 points) and a rock-solid defensive display from birthday boy Manjeet Chhillar (8 points) to hold their nerve and hold on to a much-needed win.
It was Jaipur Pink Panthers' second win of the campaign whereas Bengaluru Bulls crashed to their fifth defeat.
Jaipur began strongly as they led 5-2 after minutes with their defence inflicting damage on Bengaluru Raiders.
Bengaluru were a bit slow, to begin with, but star raider Rohit Kumar brought them back into the game with a do-or- die raid in the 15th minute to draw levels at 8-8.
Bengaluru inflicted an all out in the next minute as Rohit scored two more points to give his team a 12-8 lead.
Thereafter, Jasvir came with up an incredible super raid in the 16th minute as Jaipur made it 11-12 before sharing the spoils at 12-12 in the 19th minute.
Jaipur immediately forced an all out in the 20th minute to go into the break leading 17-14.
Coming back, Jasvir scored his eighth raid point in the 23d minute as Jaipur led 19-14 before Manjeet attained a high-five to stretch their lead to 21-14 after 27 minutes.
Jaipur inflicted another all out in the 29th minute to lead 26-16 to dominate the first 10 minutes of the second half.
Bengaluru's defence managed just four tackle points in the first 30 minutes of the match. Two tackle points by Bengaluru reduced the deficit to eight points as they trailed 20-27 after 34 minutes.
In the last five minutes, Bengaluru's challenge was to reduce the defeat margin to seven or less points to which Ajay Kumar responded with a raid point in the 39th minute to trail 23-29.
Jaipur were reduced to just one man as Bengaluru launched a comeback and trailed 25-29.
Towards the end, Bengaluru inflicted an all out to reduce the deficit to just one point but Jaipur survived a scare, thanks to Jasvir's raid point in the last second of the match to win 30-28.
(With IANS Inputs)